Events: Arizona - Phoenix - Scottsdale
Event
Title:

Murals Memorialize Musical Greats at Tempe Marketplace

When:

09.13.2018 - 10.31.2018

Where:

Tempe Marketplace - Tempe

Category:
Description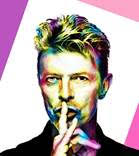 Aretha Franklin. Jimi Hendrix. David Bowie. Kurt Cobain. Four local artists will celebrate the work of musical legacies on large canvas murals for The Greats Wall, a mural project on display at Tempe Marketplace starting Thursday, Sept. 13. The murals will be on display across from Bath & Bath Works in The District for several weeks.
The 10-foot by 10-foot murals will come to life in colorful detail by four local artists – Victor Navarro, Lucretia Torva, Gina Ribaudo and Nasta Salgado. The artists will capture the likeness of some the most respected musicians of our time, including Aretha Franklin, Whitney Houston, Elvis, Freddie Mercury, John Lennon, Jimi Hendrix, Prince, Tupac, David Bowie, Kurt Cobain, Bob Marley and Selena.