Events: Arizona - Phoenix - Scottsdale
Event
Title:

Umbrella Pop

When:

06.29.2018 - 07.31.2018

Where:

Tempe Marketplace - Tempe

Category:
Description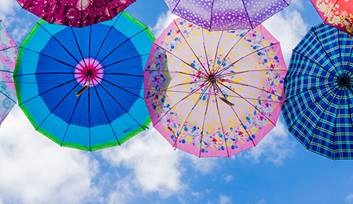 A whimsical art installation will soon POP up at Tempe Marketplace! Get made in the shade at Umbrella Pop, Friday, June 29 through Wednesday, July 31, at Tempe Marketplace's The District.
The first-ever Umbrella Pop installation will allow shoppers to take a colorful walk through The District underneath a canopy of umbrellas hoisted high above the walkways. Umbrella Pop is an art installation that is a treat for the eyes, while also providing shady relief from the blazing summer sun. Stroll marvel at this sky-high art display and engineering feat of creativity and craftsmanship. The installation is FREE to view and tour.
Umbrella Pop is presenting in conjunction with artists from the Arizona Business Committee for the Arts (AZBCA), a division of the Southern Arizona Arts and Cultural Alliance (SAACA) that provides meaningful engagement opportunities with the arts to inspire, stimulate innovation, create stronger economic impact and foster creativity.
Tempe Marketplace is located at 2000 E. Rio Salado Parkway, Tempe. For more information about Umbrella Pop, visit www.tempemarketplace.com/pop.