Events: Arizona - Phoenix - Scottsdale
Event
Title:

HGTV's Santa HQ

When:

11.10.2017 - 12.24.2017

Where:

Scottsdale Fashion Square - Scottsdale

Category:
Description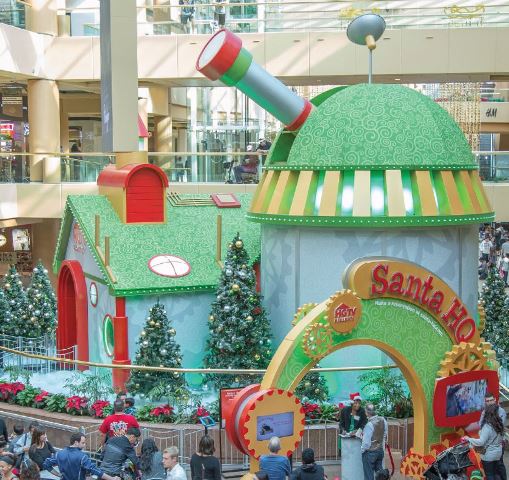 Here comes Santa Claus, here comes Santa Claus…right down Goldwater Blvd., and straight into the magical winter wonderland of Scottsdale Fashion Square!
Scottsdale Fashion Square is teaming up with HGTV to bring back its "Santa HQ" experience to the desert, which involves the beloved holiday tradition of a visit with Santa Claus, but with a modern and technological twist.
Santa and his team of hardworking elves have created an immersive journey that features state-of-the-art technology for kids of all ages. In addition to a custom photo opportunity with Santa inside his modernized sleigh, Santa HQ will give you a chance to:
Take an Elfie selfie and star in your very own holiday video;
Use Elf-Ray Vision to explore Santa's Observatory;
Find out how you rank on the Naughty or Nice O'Meter; and
Enjoy a synchronized holiday light show featuring more than 10,000 individual lights orchestrated to the tune of the popular Christmas Carol, "Carol of the Bells."
The fully-interactive experience allows you to use augmented reality to view Santa's Workshop and Observatory in a magical way. You can also download the Elf-Ray Vision app or use a provided tablet to discover the enchanting world of the North Pole in stunning 2D and 3D. Visitors are encouraged to share their Santa HQ experience on Twitter, Facebook and Instagram using #santahq.
WHEN: Friday, Nov. 10 to Sunday, Dec. 24, 2017 (Daily, except Thanksgiving Day)
WHERE: Scottsdale Fashion Square's center court, 7014 E. Camelback Rd., Scottsdale, AZ 85251
RSVP: Visit fashionsquare.com for hours and info.
Santa HQ special events include:
Holiday PJ Night (Friday, Dec. 8, from 5 p.m. to 8 p.m.)

Phoenix Suns Night with Santa is Friday, Nov. 17, from 4 p.m. to 7 p.m.

Arizona Diamondbacks Night with Santa on Friday, Dec. 1, from 4 p.m. to 7 p.m.