Page 2 of 2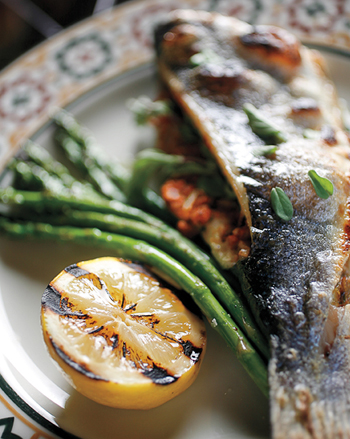 After trying the branzino for the main course, it'll be a challenge to visit Sassi without ordering it again and again. The grilled Mediterranean black bass is slathered in divine olive tapenade and lemon and each bite is better than the last, as the juices have had more time to tend to the flaky fish. Plus, the mild fish provides a perfect canvas for the robust olive tapenade on which to shine.
Though the black bass would be a very happy ending to dinner at Sassi, don't miss out on the ricotta fritters.
The fritters are adorably served on a rustic cutting board with a trio of dipping sauces: pistachio cream, lemon curd and chocolate. Though one usually can't go wrong with chocolate, the third sauce would have been even more delicious against the warm fritter if served warm itself. The refreshing pistachio cream is the table favorite and the summery curd is tart and tasty. From desserts to the weddings that the restaurant hosts, Sassi is in the business of happily ever afters.
To Learn More:
Sassi: 10455 E. Pinnacle Peak Parkway, Scottsdale. 480.502.9095, www.sassi.biz.
Chef: Christopher Nicosia
Hours: Sunday through Saturday, 5:30 to 10 p.m. (Bar opens at 5 p.m.)