Page 3 of 5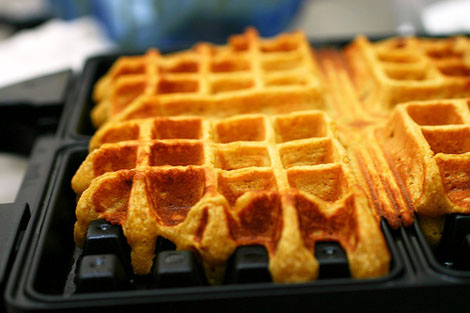 Pumpkin Waffle, U.S. Egg
4 Servings

Ingredients:
1/4 cup light brown sugar
3 tbsp. cornstarch
1 1/4 cup all-purpose flour
1 1/2 tsp. baking powder
1/2 tsp. salt
1 3/4 tsp. cinnamon
2 tsp. ginger
1/4 tsp. cloves
1/2 tsp. freshly grated nutmeg*
2 large eggs
1 cup whole milk
1 cup canned solid-pack pumpkin
4 tbsp. unsalted butter, melted and warm
*Grated and lightly packed into the spoon, use 1/2 tsp. Grated and loosely scooped, this is about 1 tsp. of nutmeg. If you have to use pre-grated, dried nutmeg, use 1/4 tsp.
Directions:
1. Lightly oil the waffle iron with vegetable oil, and set it to the desired temperature.
2. Combine brown sugar and cornstarch in a large bowl. Whisk together to break apart the cornstarch. Add the remaining dry ingredients, and whisk to blend.
3. Separate eggs: yolks go in a medium sized bowl and whites get set aside in a smaller bowl.
4. Add pumpkin and milk to the egg yolks. Whisk to blend and set aside.
5. Whip egg whites with a hand mixer on high until stiff peaks form.