Page 2 of 3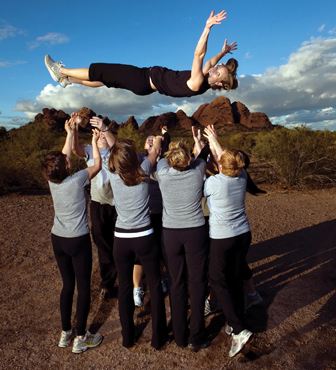 Best Alternative Exercise Option & Personal Training
Ultimate Body Boot Camp
The Ultimate Body Boot Camp gives exercising new meaning with 89 different metabolic workouts guaranteed to help lose weight. Group classes kick start the day at 5:30 a.m. at its Valleywide locations. 602.635.6175, www.cometobootcamp.com.
Best Alternative Exercise Option & Personal Training (Runner-up)
Karve Studio
Kendra Jordan was the first to introduce Arizonans to a one-hour fitness regimen that incorporates a ballet barre to sculpt and strengthen the body. 480.247.6725, www.karvestudio.com.
Best Yoga
SuTRA Midtown Yoga
These fun, upbeat yoga-based classes blend the techniques of yoga with ballet, Pilates, toning, cardio and aerobics. 602.253.9525, www.sutramidtown.com.
Best Dentist or Dental Team
Dr. Bradley A. Briggs
Following in his father's footsteps, Dr. Briggs joined the family's 35-year dental practice in 2004, specializing in cosmetic and reconstructive dentistry. Since becoming one of the Valley's foremost dentists, he continues to train in the newest dental innovations. 480.948.7670, www.briggsfamilydentistry.com.