Page 1 of 2
The heat during Arizona summers is enough to make any of us howl. In honor of the Dog Days of Summer, AZFoothills.com announces a call for entries for Arizona's most adorable dog.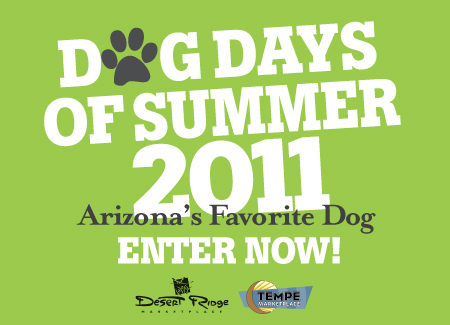 Round one of contest will consist of Web voting for the cutest dog- the five pups with the most votes at the end of the voting period will move on to round two. A winner will be then be chosen by a panel of doggie-loving judges, yet to be announced. AZFoothills.com's "Dog of the Year" for 2011 will win prizes galore! Among a long list of doggie toys and treats the winning dog will grace the pages of Arizona Foothills Magazine in 2012. Best of all, they'll hold the title of Arizona Foothills Magazine's "Dog of the Year" for 2011!
How to Enter Online:
To enter a dog for the Dog Days of Summer Contest, e-mail Entry Information to contest@azfoothills.com by 11:59:59 A.M. by August 1, 2011. Entry Information includes:
*The dog's name, age and hometown
*The owner's name, phone number and e-mail address
*An adorable dog photo (the bigger the better, only one photo per dog is necessary)
Only one entry per dog will be permitted. All entries received by deadlines will be considered. Odds of winning are determined by the number of eligible entries received. All entry information and photos become the property of Arizona Foothills Magazine and Media That Deelivers upon entry. All entries must be received by the Entry Deadlines (11:59:59 A.M. on August 1, 2011). By submitting a photo, entrants are agreeing to the official Rules & Regulations set forth on the following page:
How to Enter at a Casting Call:
Casting Calls will be held on July 30 at Desert Ridge Marketplace and July 31 at Tempe Marketplace from 11am-1pm. Fill out this application and bring to a casting call: http://www.arizonafoothillsmagazine.com/images/DogDaysEntryForm.pdf
Those who enter at a casting call will start the contest with 1000 votes.
Casting call activities will include a doggie glamour shot, prizes, treats and a variety of other activities.
Only one entry per dog will be permitted. All entries received by deadlines will be considered. Odds of winning are determined by the number of eligible entries received. All entry information and photos become the property of Arizona Foothills Magazine and Media That Deelivers upon entry. All entries must be received by the Entry Deadlines (11:59:59 A.M. on August 1, 2011). By submitting a photo, entrants are agreeing to the official Rules & Regulations set forth on the following page:
Official Rules and Regulations