Page 3 of 4
Best National Valley-Based Company and Most Philanthropic Company
GoDaddy
Having established roots in the Valley, GoDaddy has quickly skyrocketed to a national brand. From the at-home entrepreneur to successful Valley-based companies, GoDaddy's appeal and ease has few rivals in the domain and Web hosting realms. www.godaddy.com.
Best Photographer: Commercial
Chadwick Fowler, Chadwick Fowler Photographics
Top musical talent and artistic industries always seek out the best for commercial-use projects and pictorials. Photographer Chadwick Fowler is that man and although he travels far and wide in the name of art, he's based right here in Arizona. 602.738.2222, www.chadwickfowler.com.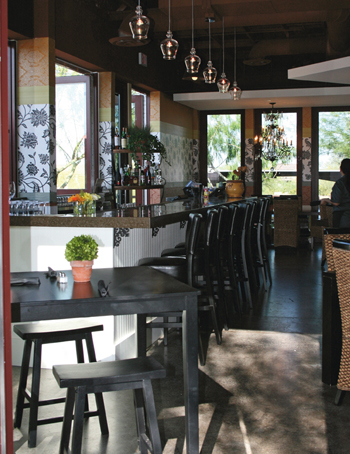 Best Catering
The Herb Box Catering Company
Already a favorite lunch spot in the Valley, The Herb Box Catering Company provides a creative, freshness-centered gourmet menu for private events and parties around town. 480.998.8355, www.herbboxcatering.com.
Best Photographer: Events
Mike Benedetto, Moments Frozen Photography
Capturing a moment in time can tell a story for years to come. Mike Benedetto of Moments Frozen Photography won this category for his ability to give clients snapshots of their most memorable events. 480.577.5882, www.momentsfrozen.smugmug.com.
Best Photographer: Family & Portraits
Larry Stone, 12 North Photography
While his portfolio includes a wide repertoire of expertise, Larry Stone of 12 North Photography won this category for the creativity and originality of his portrait-taking techniques. 928.315.2582, www.12north.com.
Best Photographer: Fashion & Beauty
Christos Sewell, Christos Sewell Photography
With countless fashion pictorials and layouts under his belt, Christos Sewell knows how to accentuate fashion and the female form. Specializing in commercial, editorial and designer photography, Sewell's keen eye and creativity landed him at the top of this category. 480.570.2689, www.imagebychristos.com.
Best Web Design, Programming or Management Firm
Silverleaf Design
Web presence is the key to visibility these days. In fact, one click is all it takes to make a first impression. Selected by voters for simplifying all aspects of Web site management, Silverleaf Design's Web designs are content specific, visually appealing and make visitors want to browse longer. 623.879.9377, www.silverlf.com.