While many celebrities hire people to craft their Tweets for them, rock star and Valley resident Bret Michaels is a little more hands-on.("I like to have fun but I sweat the details, so you better believe all those Tweets I do myself," he says.) Thanks to his nearly 160,000 faithful followers, Michaels was named Top Twitterer in Best of Our Valley 2012. Here, the Poison front man discusses his "drealist" point of view, as well as his adoration of Arizona.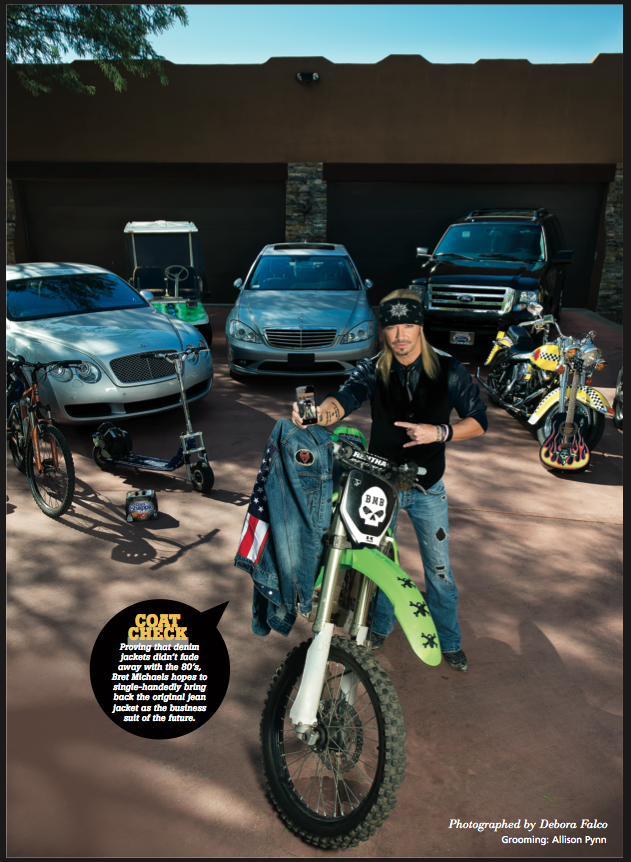 TOP TWITTERER:
@BRETMICHAELS

   For those of you ready to learn more about Bret Michaels—besides the fact that he likes to pick up 4-inch scorpions for fun—hold on to your bandanas because the reason he moved to Arizona may surprise you.
Though Michaels is known as the front man to the popular rock band, Poison, he is also a spokesperson for Reader's Digest's We Hear You America campaign and the American Diabetes Association; has formed partnerships with PetSmart, Snapple, Dean Guitars, Monster Energy Supercross and Speed (to name a few); is a reality TV star and is a proud father of two beautiful daughters, Raine and Jorja. A crazy life indeed, he moved to Arizona to settle down in 2006. "I know it might sound crazy but after living and traveling in many cold places, all I want to do is play basketball in 110- degree summer heat with my family."
   Michaels says that seeing javelina, rattlesnakes and bobcats all in the time span of 15 minutes is one of the many reasons he chose to settle down in this sunshine-soaked state. He believes he is blessed to not only see beautiful ever-changing sunsets but to also be embedded in such a wonderful community that Arizona has to offer. "The people are motivated and hardworking but friendly and relaxed."
  Though Michaels has suffered through health problems, heartbreak and the death of loved ones, he has overcome and enjoyed tremendous success. "I describe my successes and tribulations as every rose has its thorn. I have been able to do wonderful things with my life and never fear failure but it doesn't mean I [haven't had] hard times. You look forward, you do what you feel and you don't over think it."
  Michaels describes himself as a "drealist," part dreamer, part realist. He thinks that if you are just a dreamer, it is hard to make your dreams a reality while the realists have difficulty enjoying life and are often pessimistic. Instead, you need a bit of both. "Although there are misfortunes, you keep dreaming. You have passions and realize that you can get knocked down but don't let it ruin your determination." It is inspiring revelations such as these that keep Michaels' thousands of followers and fans checking his 140-character updates regularly. —S.L.