October 27, 2016 (Scottsdale, AZ) – AZFoothills.com has surpassed 3.8 million views over the last 30 days from September 28 to October 28, sustaining AZFoothills.com title as Arizona's leading lifestyle news network and widening its lead on mainstream media TV news channels such as AZCentral.com and Fox10Phoenix.com.
The record-breaking number of views from across AZFoothills.com varied channels including Taste, Fitness, In-House, Best of Our Valley, Vroom, Style Files, and Valley Girl, amount to 7.5 times the global views that AZCentral.com enjoys and more than 38 times those of Fox10Phoenix.com news channel combined.
"The future of media is completely linked to the internet. Once you fall behind in this field, it's difficult to catch up. From the start AZFoothills.com has focused on developing its digital platforms, and this has been the key to our success," said President and Publisher Michael Dee.  "We are much more than a magazine; we have the #1 Instagram, weekly eNews and solo blasts that work and deliver results," said Cliff Howard New Media Development Manager.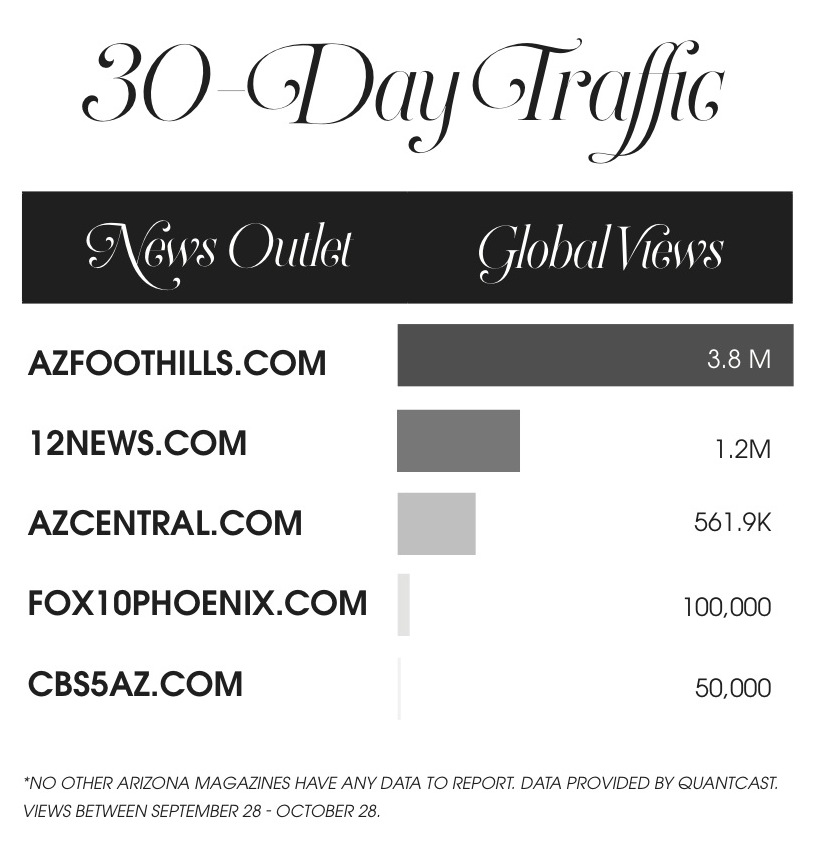 AZFoothills.com is the Valley's fastest-growing Web site. Arizona Foothills Magazine and Arizona Foothills Online are dedicated to providing resourceful information on dining, entertainment, homes, fashion, culture and events in Arizona.
Scottsdale-based Media That Deelivers, Inc. (www.mediathatdeelivers.com) is a leading luxury magazine publisher that produces many titles in its luxury collection of magazines, including the monthly Arizona Foothills Magazine, annual InArizona, Arizona Foothills Tucson Online, InMexico Magazine, and InMexico.com. The company also publishes an array of custom products for world-renowned organizations.
For more information on sponsored content and online advertising with AZ Foothills e-mail sales@azfoothills.com.