The Valley's top businesses, most influential people, and hottest trendsetters have been named after 60 days of online voting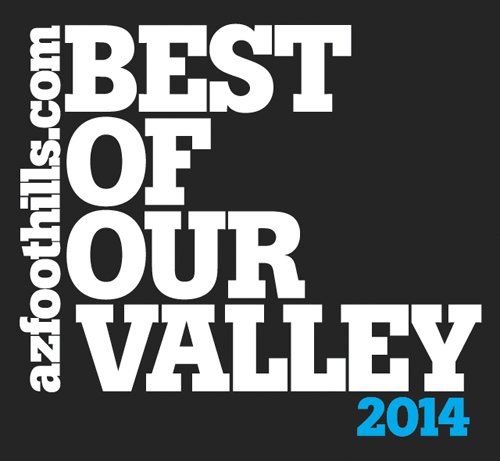 December 10, 2013 (Scottsdale, AZ) – AZFoothills.com Best of Our Valley 2014 contest concluded on Saturday November 30th with more than 1,695,900 page views of the course of the competition. The seventh annual contest began on October 1st with more than 4,000 nominees, almost double than previous years and saw an 18% increase in total votes from 2013. Each year AZFoothills.com asks readers their favorites among options chosen by nominations, editors and focus groups. The contest is answered with hundreds of thousands of votes that determine the Valley's favorites. The winner of each category is featured in the March 2014 issue of Arizona Foothills Magazine, a tell-all guide to the best people and places in the Valley of the Sun.
The 2014 Best of Our Valley contest boasted fifteen different categories ranging from Food & Restaurants to Health & Self to Companies & Professionals. Within those more than 370 sub-categories were included containing titles like Best Nightly Newscast, Favorite Arizona Sports Coach, Best Alternative Exercise Option, Most Luxe Hotel Accommodations, and hundreds more. One of the hottest categories, People, hosted races for Best Abs, King of Media, Favorite Valley Couple and the highly contended Most Fashionable in the Valley. The Most Fashionable categories entertained some of the closest and most publicized races. Kinsey Schofield, winner of Most Fashionable Under 30, ran a hot campaign including a personalized voting link, lawn signs with her image, and special packages delivered valley wide enticing residents to vote. 
The Best of Our Valley voting pages were easily shared through social media platforms like Twitter where @AZFoothillsMag ranks second among all media outlets in Arizona with more than 23k followers. FOX 10 Arizona covered the highly popular contest on Cory McCloskey's morning segment, Cory's Corner. The Best of Our Valley contest was also showcased at various local events including a sold out VIP area at Salt River Fields Octoberfest and the W Hotel's Holiday Boulevard with 500 patrons in attendance. Consequently AZFoothills.com received close to 2 million page views during the contest duration. 
Michael Dee, President and Publisher of AZFoothills.com and Arizona Foothills Magazine, stated "The Best of Our Valley contest brings our community together through friendly competition. It is our goal to shine a light on all the fabulous companies, professionals, events, people, and more that the great Valley of the Sun has to offer. We pride ourselves on featuring the crème de la crème and this competition really showcases why Arizona is the best."
AZFoothills.com is the Valley's fastest-growing Web site. Arizona Foothills Magazine and Arizona Foothills Online are dedicated to providing resourceful information on dining, entertainment, homes, fashion, culture and events in Arizona.
Scottsdale-based Media That Deelivers, Inc. (www.mediathatdeelivers.com) is a leading luxury magazine publisher that produces many titles in its luxury collection of magazines, including the monthly Arizona Foothills Magazine, Arizona Foothills Tucson Online. The company also publishes an array of custom products for world-renowned organizations like the The Westin Kierland, JW Marriott Resorts and Mountainside fitness.
###
Contact:
Karah Van Kammen
Arizona Foothills Magazine
p: 480-220-9792