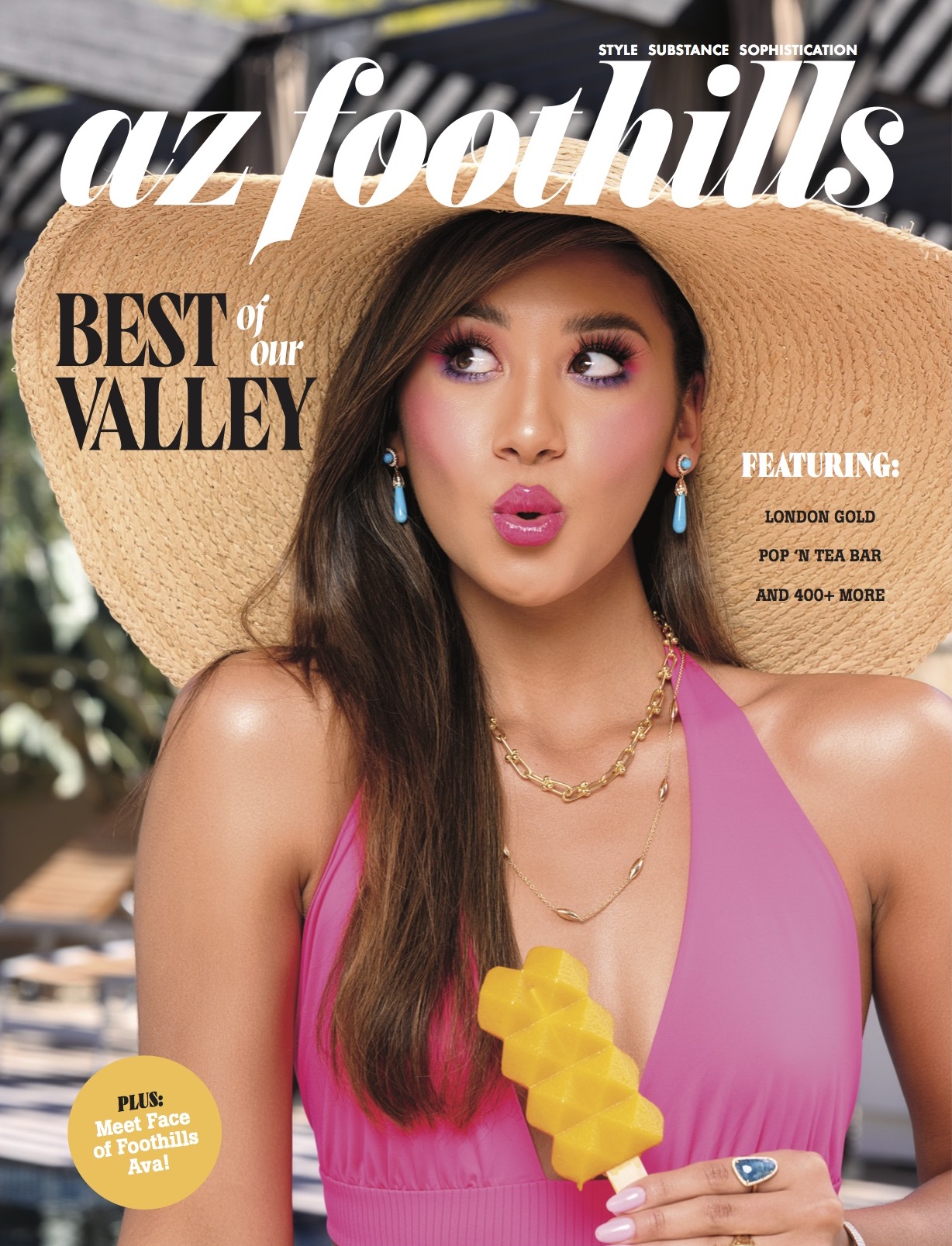 April 20, 2020 (Scottsdale, AZ) – AZ Foothills, the Valley's #1 luxury lifestyle publication, will celebrate the best of Arizona with the launch of its annual Best of Our Valley collectors edition featuring more than four hundred of the state's premier people, places and things as chosen by its readers. The 12th annual contest, which ran from October 1, 2019 – November 30, 2019, on azfoothills.com, was answered with millions of votes for over five-thousand nominees in categories ranging from Best Fitness Studio to Best Frozen Treat to Most Philanthropic Figure. After months of anticipation, Best of Our Valley contest winners will be seen by more than 100k people state-wide and beyond with both digital and print releases of the tell-all guide, a number that far surpasses any other local publisher.
The 2020 issue marks the largest in AZ Foothills two-decade history with more than 125 gorgeous glossy pages and will see the highest distribution of any Best of edition. Along with its regular print circulation of 20k, the publication will reach even more high-income homes via direct mail with newly added zip codes in Arcadia, Biltmore, Desert Ridge, and McCormick Ranch neighborhoods. For the first time ever, the book also features the winners of another extremely popular AZ Foothills contest, Face of Foothills. Ava Cashman, winner of the 10th annual model search competition that saw more than eight million impressions on azfoothills.com during its duration, will grace the Best of Our Valley cover and a stunning seven-page in-book fashion spread. Of course, one of the most historical moments for the 2020 edition is its release during the novel coronavirus pandemic.
"When we launched the 2020 Best of Our Valley contest in the fall, we approached it as we have for the past decade: a way to honor the top restaurants, resorts, nonprofits, professionals, events and more in the Valley, as voted by or readers," says Editor in Chief, Melissa Larsen. "As it neared time to complete the Best of Our Valley issue, everyone's world was turned upside down as we found ourselves in the middle of a global pandemic. It is during this trying time that Best of Our Valley takes on an even bigger purpose."
"AZ Foothills has always been so much more than a magazine," says President and Publisher, Michael S. Dee. "During this uncertain and unprecedented time, Best of Our Valley is
 a way to celebrate and bring awareness to the Valley businesses and individuals who make our great state an incredible place to live, work and play each and every day. Our goal is to help our local community not only survive the current situation but thrive once it has passed," he concluded.
As one of the top ten thousand most visited sites in the US, AZ Foothills remains committed to producing valuable and timely content across all its channels, including social media where the brand connects daily with close to one million fans. In recent weeks, AZ Foothills also launched an all-new E-Newsletter series, providing useful and uplifting articles to help readers stay connected during the current crisis. The newsletters are sent five times per week to 93k subscribers. Best of Our Valley content will be included in the regular enews rotation as well as on @bestofourvalley, the publication's Instagram account dedicated exclusively to sharing contest winners with more than 100k followers and on AZ Foothills main handle @azfoothills with more than 500k followers.
AZFoothills.com is the Valley's fastest-growing Web site. Arizona Foothills Magazine and Arizona Foothills Online are dedicated to providing resourceful information on dining, entertainment, homes, fashion, culture, and events in Arizona.
Scottsdale-based Media That Deelivers, Inc. (www.mediathatdeelivers.com) is a leading luxury magazine publisher that produces many titles in its luxury collection of magazines, including the monthly Arizona Foothills Magazine, annual InArizona, annual CAKE Weddings, Arizona Foothills Tucson Online, InMexico Magazine, and InMexico.com. The company also publishes an array of custom products for world-renowned organizations.
Read the 2020 Best of Our Valley issue here.
Learn more about Best of Our Valley and how to nominate here.
For more information on advertising opportunities e-mail sales@azfoothills.com.
Sign up for the monthly publication and E-News here.