Finding Your Wedding Day Inspiration- Pinterest
We find inspiration from all different things: architecture, nature, fashion, etc. Instead of copying what others are designing for their wedding, we pull ideas from our surroundings or things that we see from other industries. In the past, we would have cut ideas from fashion or interior design magazines. Now, we use Pinterest to find and keep things that inspire us organized. If you haven't joined the Pinterest phenomenon yet, you need to begin today. You will likely be addicted to pinning photos of things that inspire you within days. Rachel and I loved it immediately and now pin items every day. It is a brilliant tool to easily keep all of your wedding ideas in one place. Below I have shared some things that have inspired us. We both also have a plethora of floral, stationery, tablescape, lighting and favor boards too!
Follow us at on Pinterest at heathercrabtree and racheltroyan.
We are inspired by patterns,

Images: Trina Turk fabric, leaves, the kiss, tile
love design by words,

Images: Posters, Opera Festival, Bronx Bar, Clermont

Images: Neon, Pretty skirt, peach flowers, bookstore
create based on interiors and exteriors,

Images:outdoor, office, living room, chandelier
and think makeup and hair are so fun!
Images: Purple shadow, pink lips, lovely hair, smokey eyes
------------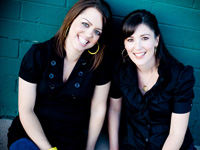 Outstanding Occasions
On the most important day of your life, you don't want to be scrambling for phone numbers or running around with flowers. Heather Crabtree and Jennifer Thinnes with Outstanding Occasions have loads of experience and can create custom packages for you- whether you are looking for day-of coordinating or genius, creative ideas. www.outstanding-occasions.com