Featured Chef Akos Szabo – Chef de Cuisine of Top of the Rock Restaurant– Buttes Marriott.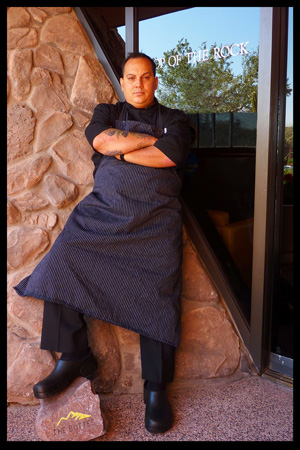 How did you get your start in the restaurant business?
Working part time at Chili's as a prep cook and quickly moved up to expeditor, and fell in love with this crazy world we call the restaurant business.
What is your favorite Valley restaurant, besides your own?
FnB, Chelsea's Kitchen.
What is your favorite dish at your restaurant?
Banyuls-glazed pork belly, heirloom corn, cilantro, lime.
What is the most memorable meal you've ever had?
Lunch at Valderrama Olive Oil Orchard in Toledo, Spain.
If you could have anyone visit your restaurant, who would it be?
Anthony Bourdain!
Name three ingredients that you have at home at all times.
Maldon sea salt, Valderrama Extra Virgin Olive Oil, Pedro Ximenez sherry vinegar.
What is your favorite bottle of wine or cocktail?
Fagus—100 percent garnacha grapes from Basque region.
What do you like to do in your free time?
Home theater install, watching movies with my wife, Karen, cooking, and taking my dog, Roscoe, for long hikes.