Page 2 of 2
Best Family Law Firm
Nirenstein Garnice Soderquist PLC
Specializing in divorce and family law, Nirenstein Garnice Soderquist PLC has a long-standing reputation of making the best out of life's curveballs. 602.485.5800, www.ngslaw.com.
Best Family Law Firm (Runner Up)
Hallier Law Firm
The highly reputable firm offers a multitude of services for families at a crossroads and, along with Nirenstein Garnice Soderquist PLC, took a vast majority of the votes. 602.285.5500, www.hallierlaw.com.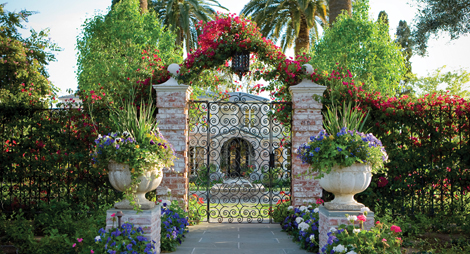 Berghoff Design Group pictured above
Best Landscaper
Berghoff Design Group
Experts in design, construction, lighting and maintenance, Berghoff Design Group is an all-in-one landscape design firm that has produced elegant exteriors all over the Valley. 480.481.3433, www.berghoffdesign.com.
Best Landscaper (Runner Up)
Estancia Landscape and Design
Whatever the size of the landscape project, Estancia Landscape and Design has the résumé and expertise to make art out of the outdoors. 480.585.1903, www.estancialandscaping.com.

Best Catering
Benedict's Catering
Throwing a soirée has never been so simple or savory. Benedict's Catering, a mainstay in the Valley since 2003, supplies events with their innovative culinary creations and extraordinary handcrafted chocolates. 602.992.3337, www.benedictscaterers.com. 
Best Realtor
Walt Danley
Featuring experienced real estate agents with an elevated sense of the market, the Walt Danley Group has quickly become the go-to experts when it comes to buying or selling luxury real estate. Danley, himself, consistently nabs top-selling designations and industry awards for his excellence in the real estate realm. 480.991.2050, www.waltdanley.com.
Best Realtor (Runner Ups)
While Walt Danley kicked some butt in this competition, we had incredible results in this section. Best Realtor was our most-voted category with all 12 runners-up averaging about 50,000 votes each. Here, we wanted to list each of these winners, whose areas of expertise may include Arcadia, Ahwatukee, Paradise Valley and Scottsdale: Bob Hassett, Bob Nathan, Catherine Jacobson, Ellie Shapiro, Frank Aazami, Kristy Ryan, Mike Mendoza, Pam Eagan, Robert Joffe, Sandra Baldwin, Shelley Caniglia and Suzeanne Gammage.