Page 2 of 2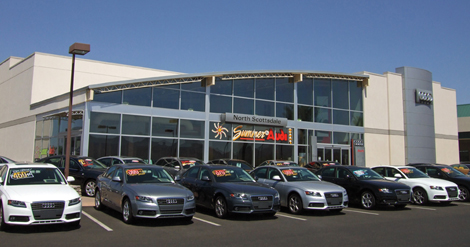 Best Dealer Service: Audi
Audi North Scottsdale-2011 Winner
Looking to own a new or used Audi? Maybe you need a tune-up on your current model or simply want to browse? Well, the team at Audi North Scottsdale will be able to assist you. Audi North Scottsdale is a five-time award-winning Magna Society dealership committed to providing the highest levels of customer service through its incomparable knowledge of Audi vehicles. www.audinorthscottsdale.com. 
Best Dealer Service: Lexus
Bell Lexus
Visit Bell Lexus for a world-class ownership experience. Come in for a new or pre-owned Lexus, to have your vehicle serviced or to arrange financing. Whatever the reason may be, Bell Lexus is committed to providing a high-end experience that keeps customers coming back. www.belllexus.com.
Best Dealer Service: Mercedes-Benz
Schumacher Scottsdale Mercedes-Benz-2011 Winner
If you're thinking about bringing home a Benz, voters recommend stopping by or giving Schumacher Scottsdale Mercedes-Benz a call. The helpful staff will do everything to make your car-purchasing experience as easy as possible. Though the dealership is located in Scottsdale, Schumacher Scottsdale Mercedes-Benz has helped people from the communities of Chandler, Mesa and many more find the Benz of their dreams. www.schumachermb.com.
Best Limo & Sweet Rides
The Driver Provider-2011 Winner
Whether you are booking a ride for your teen's prom or spending an evening out and about with pals, let The Driver Provider pick you up. This independent full-service transportation company
of refreshingly friendly professionals offers courteous, reliable and personalized service from the minute you book your reservation. www.driverprovider.com.  
Best Valet
American Valet
Since 1980, American Valet has provided professional and cost-effective parking services and solutions for a wide variety of businesses, private parties and special events. Customers can count on the trusted valet company to create great impressions with guests, visitors, clients and employees. www.americanvalet.com. —E.L.