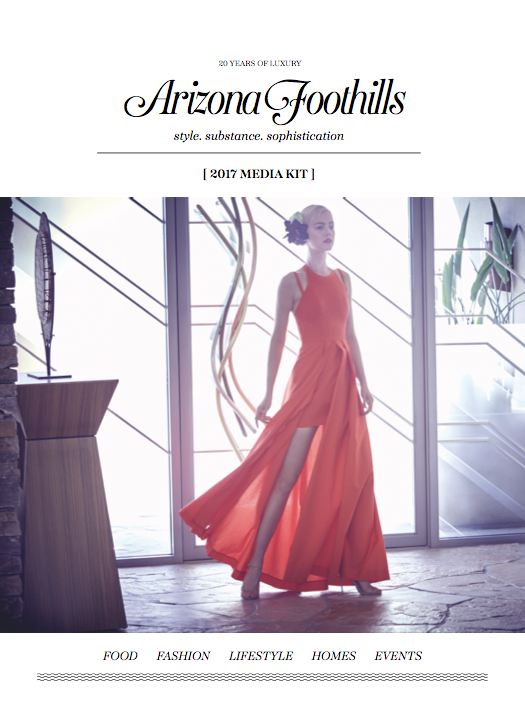 July 8, 2016 (Scottsdale, AZ) – Arizona Foothills is proud to celebrate its twentieth year as the Valley's #1 luxury lifestyle brand with the release of their all-new 2017 Editorial Calendar. Arizona Foothills Magazine will continue its tradition of twelve monthly books covering everything style, substance, and sophistication in the Valley and beyond. The 2017 Editorial Calendar themes will include proven favorites like The Luxury Issue in November, a gilt-edged guide of the most lavish goods and exclusive finds for the holiday season; April's ever-popular Best of Our Valley issue profiling the best in every category from the most scenic patios to top proven professionals to favorite local trendsetters; and February's crowd favorite, The Golf Issue, a compilation of the Valley's greatest in golf and everything surrounding the Waste Management Phoenix Open. The best in luxury living will be showcased in January's The Haute Home: Design & Interiors and September's Best Places to Live while elite travel experiences will be explored in May's Top Resorts & Spas and July's Top of Mex.
Brand new themes to hit the 2017 calendar include June's The L.A. Issue, a complete guide the very best of luxury in Los Angeles, and Luxe Libations in October, a celebration of the Valley's most sophisticated sips including inventive craft cocktails, full body brews, and rich home-grown wines. Arizona Foothills Magazine will deliver an A+ report on the Valley's elite in education from top Valley prep schools to star students on their way to a bright future in the new August Top Education issue while March's Fashion Files will feature fresh looks from the Valley's chicest boutiques, luxe retailers and personal style pointers from the most posh desert dwellers. Arizona Foothills Magazine will also produce two special edition issues including InArizona, focused on Arizona's tourism influx beginning January 2017, along with InMexico geared toward the elite jetsetter traveling south of the border. All issues will see bonus distribution at highly attended events, statewide CVBs, luxury retailers, high-end condominiums, premiere auto showrooms, and more.
Along with the fresh editorial calendar, AZ Foothills has added unique new events to its popular list of signature contests and events. In addition to highly successful annual promotions like Best of Our Valley contest and Face of Foothills model search AZ Foothills will premiere original events like AZ Foothills Fit Fest and various Influencer mixers in 2017. Signature contest and event sponsors will see all-new opportunities for exposure with added values like mentions on Arizona Foothills Magazine Promo Page, category exclusivity and Instagram posts on @azfoothills which boasts 238,000 followers currently, more than any other media company in Arizona.
"Arizona Foothills Magazine is a non-traditional subscriber magazine. We have always targeted the Valley's most affluent residents through direct mail and high-class Valley visitors with placement in luxury resort suites and that will not change. We are excited about the bonus distribution in 2017" says Michael Dee, President and Publisher of Arizona Foothills Magazine and AZFoothills.com. He went on to say, "We reach the people our advertisers want to reach by delivering to target audiences. The new 2017 Editorial Calendar, distribution, contests, and events reflect what both our readers and advertisers care about."
AZFoothills.com is the Valley's fastest-growing Web site. Arizona Foothills Magazine and Arizona Foothills Online are dedicated to providing resourceful information on dining, entertainment, homes, fashion, culture and events in Arizona.
Scottsdale-based Media That Deelivers, Inc. (www.mediathatdeelivers.com) is a leading luxury magazine publisher that produces many titles in its luxury collection of magazines, including the monthly Arizona Foothills Magazine, annual InArizona, Arizona Foothills Tucson Online, InMexico Magazine, and InMexico.com. The company also publishes an array of custom products for world-renowned organizations.
For more information on advertising with AZ Foothills e-mail sales@azfoothills.com.