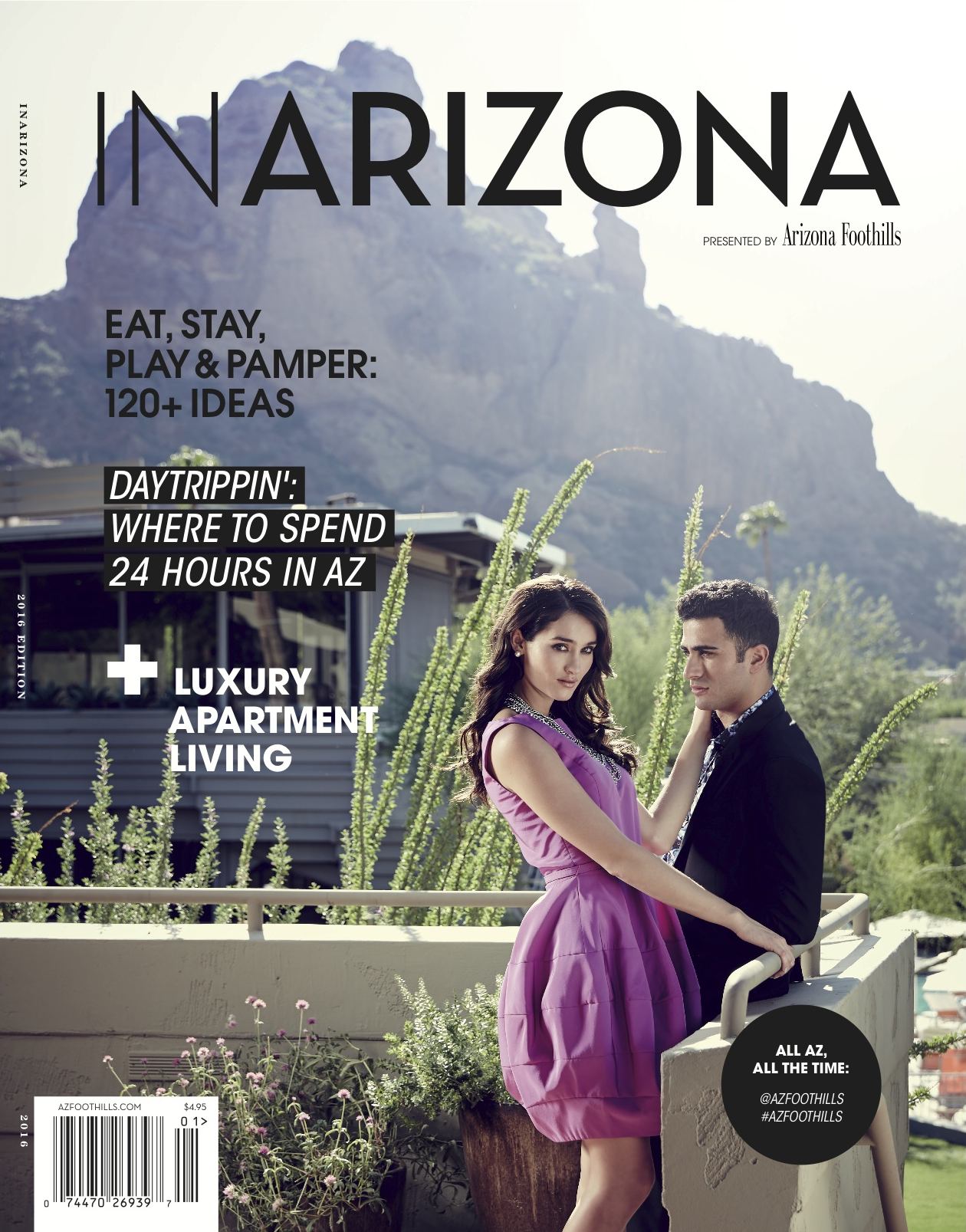 June 21, 2016 (Scottsdale, AZ) – Millions of visitors flock to the Valley of the Sun each year for sunshine, scenery, special events and more. This upcoming 2017 season Arizona Foothills Magazine is proud to present the only luxury travel magazine and comprehensive tourism focused guide, InArizona.  Now in its fifth year, the exponential demand for InArizona has grown to include exclusive distribution at key events like Barrett-Jackson Collector Car Auction, Waste Management Phoenix Open, Spring Training events, and now NCAA private events. To account for the increasing success Arizona Foothills Magazine plans to publish extra copies of special edition InArizona to share with the millions of additional visitors to Arizona through out the year and preserve it's title as the Valley's number one luxury lifestyle publication.
InArizona distribution launches January 2017 just in time for some of the Nation's largest and most publicized events taking place in the Valley, including the NCAA Final Four in early April at University of Phoenix Stadium Glendale. More than fifty thousand copies will be available at the Valley's top luxury resorts, Sky Harbor airport, private air hangars, premium shopping destinations, Arizona CVBs, and more. InArizona will see specific placement at the high profile events for the NCAA Final Four along with exclusive circulation in VIP areas at favorite Valley events like Barrett-Jackson, Waste Management Phoenix Open, and Spring Training. InArizona readers will be privy to Arizona's crème de la crème including sections like 'Best Places to Live and Invest in Real Estate', 'Best Spas' and 'Top Golf Courses' to brand-new categories like 'Best Places to Get Married' and 'Best Steakhouses'. Editorial features include elite experiences as chosen by Arizona Foothills tastemakers and cover content for every palette and predilection from dining and nightlife to resorts and spas to shopping and adventures. InArizona is quite literally the only magazine encompassing everything a luxury traveler wants.
In addition to the print publication, readers can access InArizona online through a micro-site hosted on AZFoothills.com, one of the top ten thousand most visited websites. Containing the same editorial content as the print publication, the InArizona microsite will primarily target visitors for the 2017 event season and beyond. AZFoothills.com consistently ranks on page one of Google for many commonly searched tourism related terms including "restaurants in Arizona, "best of Arizona", "best shops in Arizona", and "best shopping in Phoenix". InArizona content will be shared through AZ Foothills social media platforms like Instagram where @AZFoothills ranks number one among all media outlets in Arizona with more than 230,000 followers.
"Arizona Foothills reaches the most affluent travelers better than any option out there with the InArizona print publication, plus we have microsite online to back it up," says President and Publisher Michael Dee. "We are the most trusted luxury brand in the Valley for more than nineteen years. Our staff spends months working on this collector's edition and even locals find useful new information," added Editor-in-Chief Melissa Larsen.
AZFoothills.com is the Valley's fastest-growing Web site. Arizona Foothills Magazine and Arizona Foothills Online are dedicated to providing resourceful information on dining, entertainment, homes, fashion, culture and events in Arizona.
Scottsdale-based Media That Deelivers, Inc. (www.mediathatdeelivers.com) is a leading luxury magazine publisher that produces many titles in its luxury collection of magazines, including the monthly Arizona Foothills Magazine, annual InArizona, Arizona Foothills Tucson Online, InMexico Magazine, and InMexico.com. The company also publishes an array of custom products for world-renowned organizations. 
Don't miss your opportunity to share your message with thousands of readers in InArizona 2017. To reserve space e-mail sales@azfoothills.com.