Let The Boulders Resort Help You Treat Your Wedding Party

The special bridesmaids and groomsmen in your life are there to help ensure your wedding goes as smoothly as possible. They are your right-hand men and women -- the people who will help keep you calm and focused during one of the most hectic and stressful days of your life.

It is no easy task to be in a wedding party, which is why we believe they deserve to be spoiled a bit. Don't worry -- you'll get to join them.
When you have your wedding at The Boulders Resort & Spa, you won't have to worry about planning yet another way to show your appreciation to your bridal party -- the resort has it all planned for you.
With separate activities for the guys and girls, this will be your chance to have some girls and guys time before you are no longer single!
For the Ladies . . . Spa Suites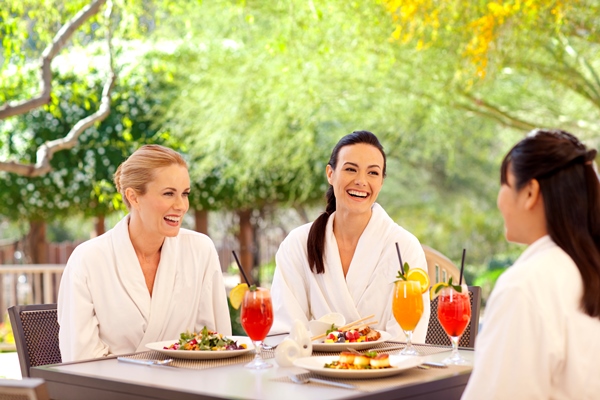 How does three hours of pampering pre-wedding sound? How about we make it sound even better by telling you that this pampering will hapen in a Spa Suite at The Boulders' world-class Spa?
We don't know about you, but we are definitely sold.
The Spa Suite spans 800 square-feet and includes all of the following:
Private steam/shower
Outdoor Jacuzzi and shower
Private patio
Outdoor fireplace
Internet access and television
Private restroom
Vanity area
You and your bridesmaids' spa time will enjoy your choice of a manicure, pedicure, of 50-minute spa treatment.
You, the bride, will get make-up application as well as an updo, and your bridesmaids will get hairstyling.
With this Spa Suite experience you will also receive:
Lunch from the Spa Cafe
Pre-wedding bridesmaids' toast
Photographer to take candid photos
Videographer who will tape a message from the groom and his groomsmen to deliver to the Spa Suite
For the Guys . . . Golf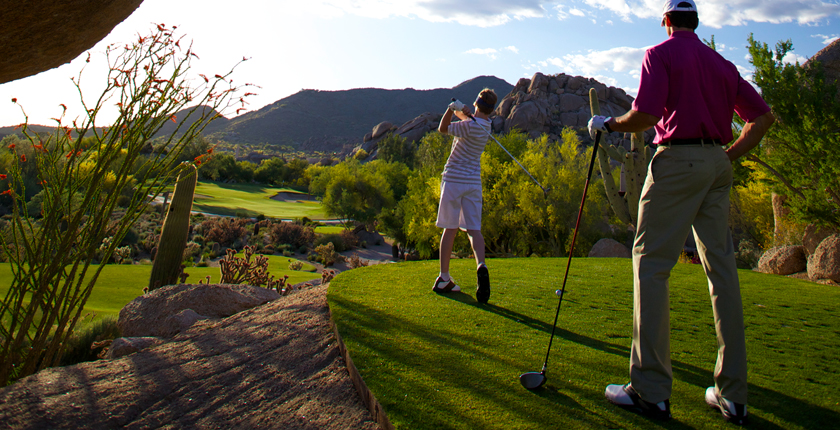 The girls shouldn't get to have all the fun, and at The Boulders, the guys will get theirs too.
Your groom and his groomsmen will be spending their pre-wedding hours out on the links, relaxing in their own way.
Included in this experience is:
18 holes of golf on either of the resort's golf courses
Lunch at Bogey's
Classic martini groomsmen toast
50-minute golf massage for all
Classic shave, hair grooming, and nail buff
Personal Boulders Butler to aid in dressing
Photographer to capture shots
Videographer who will tape a message from the groom and his groomsmen to deliver to the Spa Suite
For more information on weddings at The Boulder Resort & Spa, please visit here.