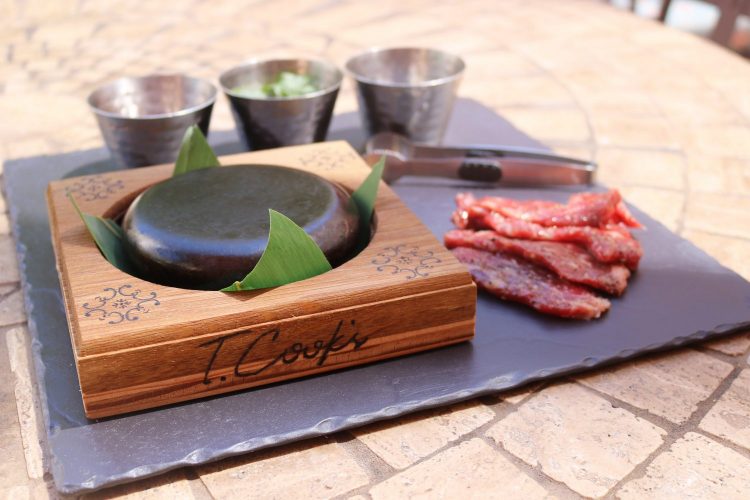 T. Cook's at Royal Palms Resort & Spa recently brought on a young rock star chef; at the age of 33, Chef Alex Robinson has already worked in five-star resort kitchens including The Ritz-Carlton Laguna Niguel, The Ritz-Carlton Chicago; Four Season Resort Jackson Hole, Four Seasons Hotel Denver, Four Seasons Hotel Boston and Four Seasons Resort Scottsdale at Troon North.

On a recent visit to T. Cook's, we got to dig into some of Chef Robinson's delicious new dinner items. Here are our faves:
The Hot Stone (pictured above): On the starter lineup, The Hot Stone can be ordered with American wagyu beef (our pick) or Pacific ahi tuna. The stone arrives piping hot, and it's up to the diner to sear their supper. Not only does this bring a little fun and hands-on interaction to the table, but the lightly browned wagyu simply melts in the mouth. The Hot Stone is sided with yuzu kosho ponzu and crunchy chili garlic for dipping, though the lightly salted beef is so perfect it really needs nothing to jazz it up.

Wagyu Snake River Farms Striploin with Maine Lobster Risotto (pictured below): Like surf and turf but better. The wagyu is tender and buttery, in a house-made steak sauce, atop a bed of creamy, decadent Maine lobster risotto (and Chef's doesn't skimp on the shellfish–there are large pieces filling the plate). The rich dish is finished with a bit of greenery: grilled asparagus.
Pan Roasted Branzino: While the other dishes are quite decadent, this seafood offering is light and summery. It just begs to be eaten on the patio. The silky, flaked-to-perfection branzino is surrounded by a rainbow of vibrant, fresh flavor: coconut-pea puree, English peas and blistered cherry tomato. To crown the fish, a haystack of crispy potato to add a little crunch.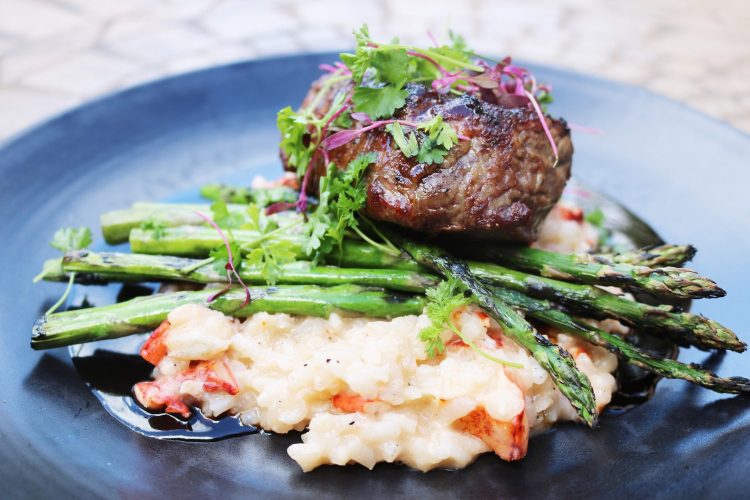 Whipped Idaho Potatoes: If you ask us, every dish needs a spud sidekick, and this whipped potato offering is just about the best we've every tried. The velvety potatoes are kicked up a notch with a streak of cilantro crema to really brighten up the taste and color.
Strawberry Shortcake: Don't let this dessert's ubiquitous name fool you. There is nothing commonplace about this shortcake. This deconstructed dessert features macerated Harry's Berries strawberries (according to Chef, these babies don't come cheap and are delegated to the dessert menu only), almond financier and, get this, pink peppercorn gelato. This happens to be Chef Robinson's favorite dessert and it is easy to taste why.
Arcadia Orange Bombe: A lip-smacking love letter to the orange trees that occupy the Royal Palms property, this picture-perfect dessert from Pastry Chef Hollie Layman-Sanders features white chocolate grande marnier mousse, hazelnut dacquoise and citrus curd shaped into a delicate orange. Sweet and tart, creamy and crunchy–this summery offering covers all the bases. Instead of a cherry on top, the adorable treat is topped with a leaf to make the image come to life.