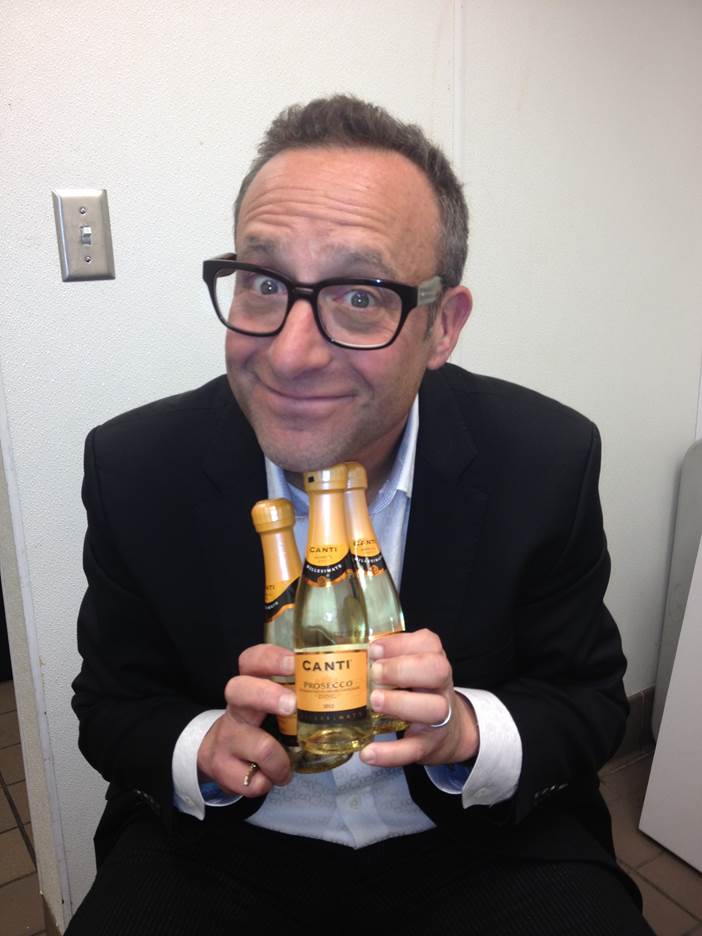 Rick Bronson is an award winning Comedian, Magician, TV Host, Writer, Producer, Musician and Taxidermist. But more than anything else, he's funny. Just ask him – He'll probably say that he's "pretty much f&%$ing awesome at almost everything." He was going to put that on his business card but he didn't want the added expense of two sided printing (if you're under 20, business cards are what people used before Facebook).
His one-man show has earned him 8 COCA Comedian of the Year awards. He won an AMPIA award for Best TV Host for his work on the award-winning travel series, The Tourist. His one-hour special for The Comedy Network and CTV was the highest rated in the network's history. He was also nominated Best Comic at the first ever Canadian Comedy Awards. Rick's credits include a starring role in the Canadian feature film Sureshot Dombrowski; hosting the international travel series The Tourist; co-hosting a National talk show Help! TV; appearances at the Just for Laughs Comedy Festival; multiple comedy specials on countless networks and a well-received performance at the Goldberg Bar Mitzvah. He has worked with President Bill Clinton; Spinal Tap (not on the same bill); Martin Short; The Smothers Brothers; Dr. Phil (don't ask); Lance Armstrong; Mark Burnett and countless more fascinating people.
Rick owns and operates some of North Americas top comedy clubs – The Comic Strip in West Edmonton Mall; The House of Comedy with locations in Mall of America in Bloomington MN, High Street in Phoenix AZ which opens September 4th, 2014 and coming soon to American Dream in East Rutherford NJ. In his spare time he plays piano, saxophone, softball, squash and golf. Rick also enjoys skiing and moving things with the power of his mind (small things). 
Name: Rick Bronson 
Age: 45 (but I look 44) 
Title: Kind of a Big Deal
Married/Single: Married to the Bigger Deal – Tammy
Kids: Noah 18 & Tanner 10 – I'm fond of one of them.
Live: Scottsdale AZ & Edmonton Alberta Canada (damn Snowbirds!)
I was born…
in a cross-fire hurricane…sorry big Rolling Stones fan. Montreal, Quebec, Canada November 19th, 1968.
My favorite thing about Arizona…
golf!
I'm listening to…
my children arguing over the merits of Minecraft…(kill me!).
My family…
must have a lot of patience to put up with my craziness and over the top ADHD.
If I could have dinner with anyone, it would be…
Bruce Springsteen and The E Street Band at an In and Out Burger. I'd pass Bruce the cashier's mic and let him count us in "1, 2, 3, 4 – Baby we were born to run…", and I'd have a double double, animal style.
One thing I cannot live without…
golf!
When I was younger, I wanted to be…
a professional baseball player. Turns out you need to be athletic.
I'm inspired by…
people who are passionate about what they do and how they do it.
The one person who motivates me is… 
The Boss – Bruce Springsteen. When I need to get psyched, I blast The Boss on the car stereo. Bruuuuuuuuuuuuuuuce!
If I could change anything in the world, it would be… 
Iowa.
The perfect day would be…
golf – followed by another round of golf!
My first job was…
birthday party magician. Yup – that's right…the babes were all over me.
My favorite escape…
Escape from Alcatraz. 
My life…
is my favorite Billy Joel song – because he references stand-up comedy.
"Got a call from an old friend we used to be real close… Said he couldn't go on the American way… Closed the shop, sold the house bought a ticket to the West Coast…
Now he gives them a stand-up routine in L.A."
I'm currently working on….
the next House of Comedy in East Rutherford NJ. It will be at American Dream (the largest entertainment and retail center in North America). This mall has an indoor ski hill and a London Eye style Ferris wheel that overlooks the Manhattan Sky Line.
Always…
be polite!
Never…
be late!
Favorite Quote…
"May you live as long as you want – and never want as long as you live."
Biggest Dream…
jamming with the E Street Band.
My Pet Peeve(s)…​
photo radar – really?! Remember the old days when the police had to chase you down? Now they can just set up a ghost car or even street corner cameras and snap a shot of you speeding. I say work for it…chase me down – pull me over and go through the ridiculous banter… "Do you know how fast you were going?" "Of course I do – I have a digital Heads Up Display right here in the windshield. Do you know how fast you were going officer? Well you should! You caught up to me!".
Oh and skim milk – yuck! It's just white water.