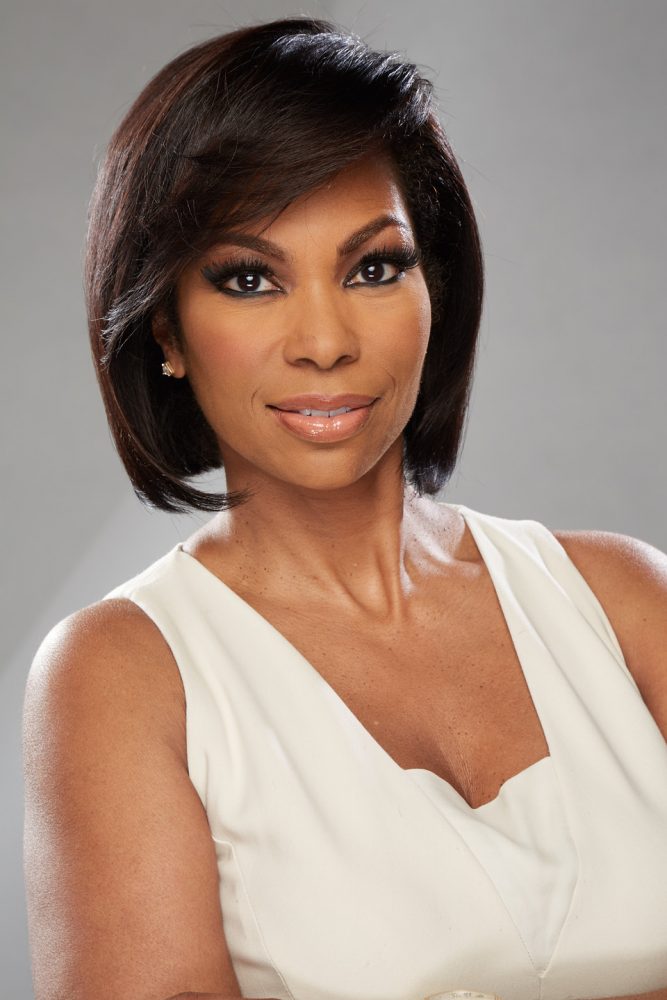 Name: Harris Faulkner
Title: Anchor at FOX News and Bestselling Author
Married/Single: Married
Kids: Two daughters, elementary school aged.
A typical day in my life includes…
starting at 5:30AM until whenever I end: I'm reading volumes on current events, politics, pop culture, co-hosting a talk show, anchoring my own show, raising children, participating in one half of a great marriage, yoga and prayer.
I was born…
on an Army base in Atlanta, GA.
My favorite thing about Arizona…
the colors of the desert – the stark difference between the arid landscape and the blooms in monsoon season.
I'm listening to…
Eastside – Halsey and Khalid.
My family…
is my inspiration.
If I could have dinner with anyone, it would be…
President Trump.
One thing I cannot live without…
love.
When I was younger, I wanted to be…
who I am now.
The one person who motivates me is…
my mom…now from heaven.
The perfect day would be…
on the beach in Montauk, NY – partly sunny, 80 degrees, my kids building sandcastles and my husband and I dreaming about what's next – I recently had a string of those days.
My first job was…
very first job? When I was an early teenager and my Aunt Ruby and Uncle Eddie owned a franchise 7 Eleven in Seattle, WA. I was their stock girl and Slurpee maker.
My favorite escape…
I purchase more shoes than anyone I know, so I would have to say shoes shopping.
My life…
is a work in progress.
I'm currently working on…
everything in a different order every day.
Always…
tell the truth.
Never…
I haven't lived my whole life yet, so maybe someday I can answer that.
Favorite Quote…
"Our lives begin to end the day we become silent about things that matter." – Dr. Martin Luther King Jr.
Biggest Dream…
I'm living it!
My Pet Peeve(s)…
dishonesty and laziness.
More about Harris…
Harris Faulkner is a multiple Emmy award-winning newscaster and trailblazer in her field. Faulkner joined Fox News Channel in 2005, where she anchors a daily daytime show Outnumbered Overtime with Harris Faulkner (weekdays at 1 p.m. ET) in addition to co-hosting Outnumbered (weekdays at 12 p.m. ET).
FOX News Channel (FNC) will present a special Town Hall America with Harris Faulkner on Sunday, September 16th at 8PM/ET at the Royal Palms Resort in Phoenix, as part of the network's midterm election coverage. Hosted by Harris, the town hall will be presented live in front of an audience and focus on hot-button issues surrounding the nationwide debate on immigration. Throughout the town hall, Faulkner will feature discussions with Arizonans in the audience who will be voting for the next senator to represent their state in the midterm elections in November.
Participants who will be contributing in the town hall include an Arizona rancher who lives on the U.S./Mexico border and the head of a local Border Patrol officers union. Additionally, Faulkner will present interviews with each of the candidates vying for Arizona's U.S. Senate seat, including Rep. Martha McSally (R-AZ) and Rep. Kyrsten Sinema (D-AZ) which will both be taped on Saturday.
Faulkner recently wrote a book, "9 Rules of Engagement: A Military Brat's Guide to Life and Success." In her book, Faulkner shares the lessons she learned growing up in a military family paying homage to the military ideals that shaped her and showing how everyone can benefit from bringing the wisdom of military service into their lives.
Throughout her career, Faulkner has interviewed many notable figures, including Sen. John McCain, Olympic gold medalist Gabby Douglas, Sen. Rand Paul, White House Counsel Kellyanne Conway, renowned musician Gene Simmons, NFL legend Joe Theismann, among others. Faulkner has covered numerous global news events, including the Sandy Hook shooting, the 2016 Republican and Democratic National Conventions, the 9/11 attacks, Whitney Houston's passing, the 2013 government shutdown, the AIDS crisis in South Africa, and the 2005 disappearance of Natalee Holloway.
Prior to joining Fox News, Faulkner served as a correspondent for WNYW-TV's (FOX 5) A Current Affair, and as a substitute host on The Nancy Grace Show on CNN Headlines News. She began her career as a reporter and anchor for WNCT-TV (CBS 9) in Greenville, NC, before going on to work for Kansas City's WDAF-TV (FOX 4) in 1992. In 2000, Faulkner joined KSTP-TV (ABC 5) in Minneapolis, MN, where she served as an evening anchor; she also hosted The Harris Faulkner Show on FM107 Radio.
Faulkner has received six Emmy Awards for her successful work in broadcast, including the 2004 Emmys for Best Newscaster and Best News Special. Outnumbered was ranked among the top ten Cable News Programs of 2016 by Nielsen. Faulkner also received the National Headliner Award for Best Newscast for her coverage of Sen. Paul Wellstone's fatal plane crash in 2003.
Faulkner is a motivational speaker, writer, and philanthropist. Faulkner, who grew up as a "military brat," is involved with the Green Beret Foundation, which provides medical, transition, and family support for those who have served in the U.S. Army Special Forces, and with the Navy Seal Foundation, which provides immediate and ongoing support and assistance to the Naval Special Warfare community and its families. Faulkner is also active in raising awareness and funds surrounding breast cancer research, working with the Susan G. Komen Foundation, the Avon Foundation for Women, and the Triple Negative Breast Cancer Foundation. In 1998, Faulkner received the Amelia Earhart Pioneering Lifetime Achievement Award for her humanitarian efforts.
Faulkner graduated from The University of California at Santa Barbara with a B.A. in Mass Communications. She resides in New Jersey with husband Tony Berlin and their two daughters.