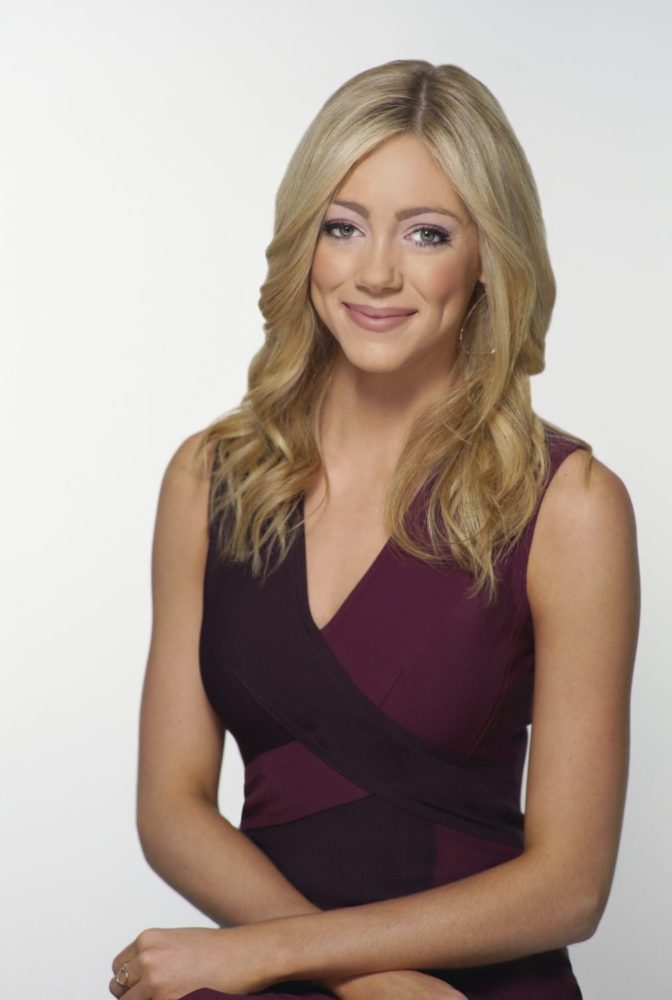 Name: Abby Hornacek
Age: 25
Married/Single: Single
Kids: None
City you live in: NYC

A typical day in my life includes…
tennis shoes. I am extremely active, so whether I'm getting on the train, walking to work, or working out, these are a NECESSITY.

I was born…
an adventurer. I've always loved being outdoors, so I grew up hiking, skiing/snowboarding, skateboarding, playing sports, mountain biking, surfing, you name it!

My favorite thing about Arizona…
is hearing all of the different types of birds chirping while I drink my coffee outside in the morning.

I'm listening to…
birds chirping in the park. What can I say, it's one of the best sounds! Also, music. I'm a huge country fan.

My family…
shaped who I am and is the most important thing in my life. 

If I could have dinner with anyone, it would be…
with my family when we are all together. If you could experience how fun and dynamic the conversations are, you would understand why. I would invite Mother Teresa along because I would be honored to pick the brain of a woman who made such a massive difference in the world with absolutely nothing. 

One thing I cannot live without…
music. I listen to it 99% of the time I'm not working. 

When I was younger, I wanted to be…
on Taylor Swift's business team. She's a genius. There's still time. 

I'm inspired by…
people who do things for others without seeking recognition.

The one person who motivates me is…
my mom. I don't know what I'd do without her. She's always made me feel capable of doing anything I wanted.

If I could change anything in the world, it would be…
people (especially children) staring at screens. So much of my life has been shaped by the experiences I've had that were uninterrupted by a device that threatens truly being in the moment. 

The perfect day would be…
listening to country music while playing games on the porch with family and friends. If there is also a campfire involved, that would make it even better.
My first job was…
excavating my backyard for archaeological treasures.

My favorite escape…
is nature, basketball in the backyard and Dave and Busters. 

My life…
has been blessed with incredible people. I feel very lucky.
I'm currently working on…
three different shows for FOX Nation (PARK'd with Abby Hornacek, Drive to Work, and a third we haven't announced yet!) and still convincing Taylor Swift to let me be on her business team. I would also like to trick Dave and Busters into sponsoring me since I've spent endless hours playing pop-a-shot at their various locations.

Always…
call your family.

Never…
take them for granted.

Favorite Quote…
be the book people want to read. My mom is the wisest person in my life and this was her advice to me.

Biggest Dream…
to be remembered for how I treated people. Not for what I did for a living. 

My Pet Peeve(s)…
when people check their phone when they're talking to someone.
More about Abby…
Abby Hornacek is the daughter of basketball legend Jeff Hornacek, who was a former player and coach for the Phoenix Suns. She was born in Utah and moved to Phoenix, Arizona where she spent her childhood and calls her "hometown."
Abby made her FOX Nation debut with "Meet Abby", where she took viewers around to her favorite spots in Phoenix including Camelback Mountain, The Sugarbowl, Grimaldis and more. She joined FOX Nation as a travel and lifestyle host, where she will be hosting a National Park Series and a Ride Along Series.
Prior to joining FOX Nation, Hornacek served as a contributor to ESPN and a sideline reporter for FOX Sports. She also hosted San Diego Prep Insider on FOX Sports San Diego. Additionally, she hosted The Rally on Stadium in Chicago, IL, which was the first live-streamed sports and entertainment show on Twitter. She is a graduate of the University of Southern California. Read more about her here. 
Abby will return to Scottsdale to host the first ever FOX Nation event at the W Hotel on Tuesday, May 14. FOX Nation the new on demand subscription-based streaming service – essentially a "Netflix for Conservatives." In conjunction with the event, FOX Nation will offer a special 99 cent promotional rate for a month long subscription. The promotion will run from May 6-19. The summit will showcase a live 90 minute program featuring some of the platform's top hosts including No Interruption's Tomi Lahren, The Quiz Show's Tom Shillue, The Wise Guys' Bill Bennett, FOX & Friends Weekend co-host Pete Hegseth, Reality Check's David Webb, Front Row Seat's Ed Henry, FNC contributor Lawrence Jones along with Diamond & Silk. During the event, both subscribers and fans will have an opportunity to pitch programming ideas to FOX Nation producers for a chance to win a trip to New York City and film a pilot production of their show. Additionally, fans will get the chance to meet several of the platform's hosts as well as participate in The Quiz Show with Tom Shillue. Read more here.