If you haven't experienced the Four Seasons Resort Scottsdale at Troon North since its $13-million remodel and launch of the new Spanish steakhouse, treat yourself to an unparalleled dinner here at Pinnacle Peak.
There's been a lot of buzz about its James Beard-nominated Chef Samantha Sanz and her menu, passionately inspired with traditional Latin ingredients.
That's because Talavera is where her innovative cuisine, its new gin bar, impressive wine list and bold art work are all stars, aligning for quite the culinary experience.
A rising star, Chef Sanz, now 30, was just 28, when she took the helm at Talavera and became the youngest chef in the Four Seasons brand to lead a restaurant kitchen. Four Seasons Executive Chef Chuck Kazmer allowed her to pursue her vision of pushing the boundaries of traditional cuisine.
If you can get there early, you can watch the sunset, amidst the breathtaking views, admire the wonderful modern paintings and prints by local Mexican artist Gennaro Garcia and enjoy a drink from Talavera's gin bar (pictured below), featuring Spanish-inspired gin tonics.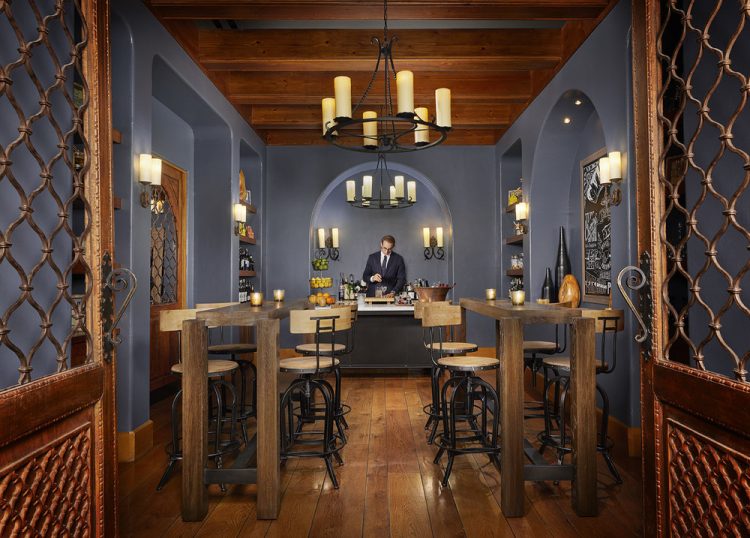 Or choose from one of the 500 new and Old World wines or crafted cocktails. Maybe some pan de queso, Columbian cheese bread to enhance those sips of fine wine. Or try one of the flavorful tapas like the grilled Galician octopus with picon and potato, or the whole prawns with garlic, mole verde and mudica.
Thanks to the resort's extensive contemporary remodel, the restaurant's design embraces many large windows, so both the inside and patio dining tables all have magnificent views.
You'll savor in the artistic cuisine which reflects Chef Sanz's experience growing up around her family's restaurant Trocadero in Nogales, Mexico, and watching her now 95-year-old grandmother cook .
Her culinary journey prior to working with Beau MacMillan at elements and Gio Osso at Virtù includes working as a nanny and cooking for a family in Paris, France. It's where she says she became immersed in the culture and how they respect their prime ingredients. 
You'll savor those vibrant flavors in your dinner choice as well. Of course, the dry-aged steaks, emphasizing prime cuts of meat from boutique purveyors, are highly suggested. So deliciously delightful, you'll be thinking about, for example, the bone-in rib eye with black garlic, caramelized onion, olive and manchego for days.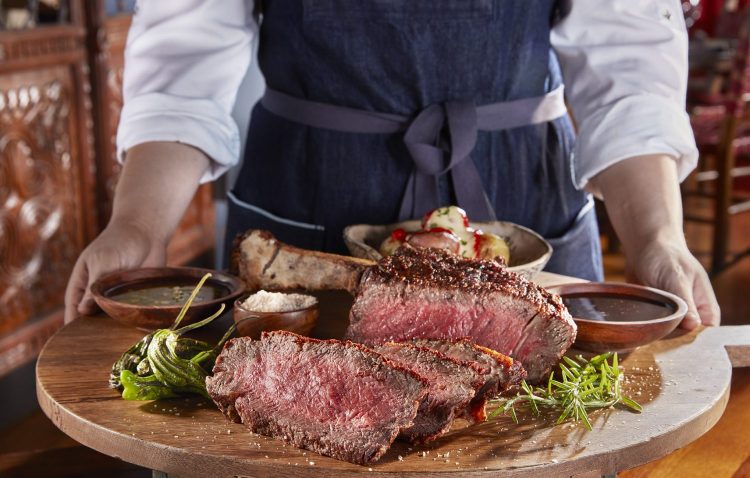 Chef Sanz's paella selections–a family recipe–are very popular, with the Talavera dish boasting clams, lobster, shrimp, chorizo bilbao, pork belly and chicken.
You can't go wrong with her amazing jamón ibérico (aged 36 months) or fresh seafood dishes, including the salmon with black lentil, saffron shrimp nage and Tuscan kale, also all wonderfully pushing the boundary of traditional cuisine.
Try to leave room for dessert, especially the Peruvian dark chocolate cake. Salud!
 Talavera is open for dinner from 5:30 to 9:30 p.m. Tuesday to Sunday (June to August, Wednesday to Sunday). –Kathy Shayna Shocket