It is no secret that Chicago loves Scottsdale, so it only makes sense that one of Chi Town's tastiest transplants made a home away from home right here in the Valley when Scottsdale Waterfront welcomed Maple & Ash. Brainchild of Chef Danny Grant, Maple & Ash is making waves at the Waterfront with its stellar dry-aged steaks, premium seafood and more, all accompanied by a winning wine and cocktail list.
Before you even pick up a knife and fork, it is easy to see that Maple & Ash dresses to impress. It has the handsome good looks of a classic American steakhouse with dim lights, leather and woods. At every turn, large Beauty & the Beast-worthy candelabras are impossible to miss. Even the small candlesticks at each table will be turned over several times through the course of a meal. Though a full coursed dinner is a must-do, popping by the plush lounge to enjoy a tipple or two is a great way to start a weekend or meet up after work. (We recommend the fruity Spanish Secrets.)
But back to that full coursed dinner…
Maple & Ash knows how to do a special-occasion feast (though we don't recommend waiting until a special occasion to treat yourself). Starting with a lemony martini, cleverly called the "amuse booze," there is plenty of fun to be had before the steaks and seafood hit the table. The wedge salad is a classic, and we'd gladly pop pieces of the crispy glazed bacon by the handful. The yellowfin tuna tartare is divine; the fresh fish is accompanied by avocado, crispy shallots, watermelon, macadamia nuts and nori crisps to really jump start your taste buds.
Let's be clear about the next dish; a fire-roasted seafood tower is practically a must at Maple & Ash. The goods (which may include prawns, scallops, crab, lobster and oysters) are roasted in the hearth and finished with garlic butter and chili oil. If depression sets in once the seafood is kaput, it won't last for long: the server then puts a pot of fresh pasta on the warm, buttery sauce that lingers in the top tier of the tower. Once that is gone, it's OK to be sad until the steaks make an appearance.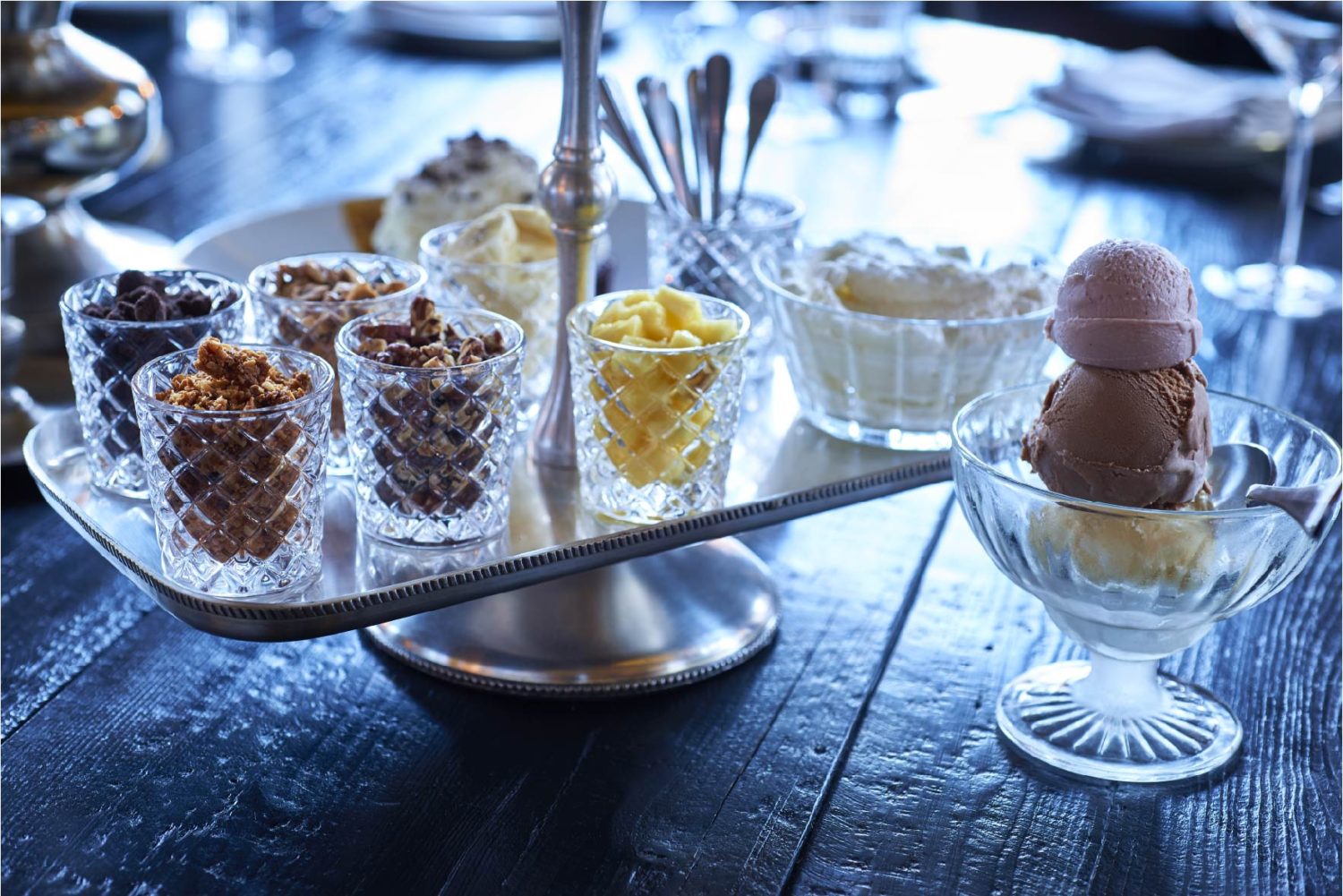 The menu is chock-full of meaty cuts, ranging from a 6-oz. petite filet mignon to the wallet-busting 40-oz. Einsenhower and 45-day dry-aged Tomahawk cuts. We suggest pairing your steak with Maple & Ash Beefed Up Butter to kick up each melt-in-your-mouth bite. And what's a steakhouse feast without a medley of sides to dig into? The asparagus with orange, mint and almond is a bright and refreshing offering while the Maple & Ash Baked & Loaded Potato is basically a meal itself (the cheesy spud is topped with short rib!) 
For dessert, Maple & Ash brings some fun to fine dining with the Sundae Service. The DIY sundae features three perfectly round scoops of ice cream–chocolate, vanilla and strawberry, naturally–and two tiers of tasty toppings, featuring the usual suspects like sprinkles, hot fudge, banana and strawberries, and a few unexpected treats, including peanut butter sauce, pretzel-pecan streusel and toffee. And, of course, a cherry on top.