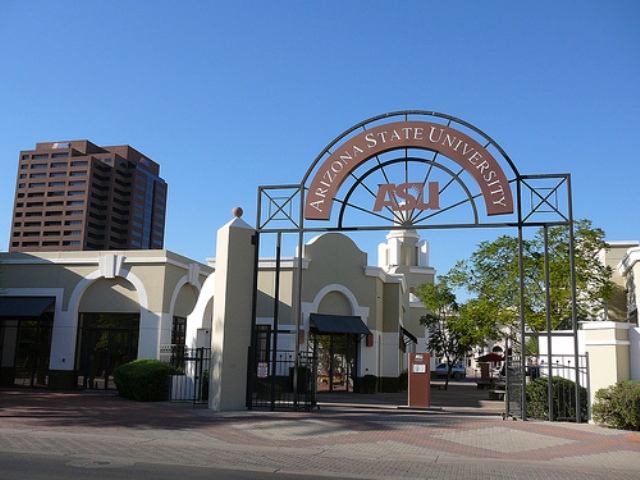 For the student, staff or worker around ASU's campuses, Tempe and Downtown Phoenix, get your fare fix with these five favorite eateries.
Jimmy Eat World loved this oyster house oh-so much they included it in one of their songs. On 9th and Ash, Casey Moore's Oyster House stakes a house-like claim right off the busy University Drive. A mixed camaraderie of local booze and fresh bites, indoor and outdoor bars as well as overgrown trees and bushes to wean off any passersby not looking for a hidden gem make this place one to check out if you're in the area. http://www.caseymoores.com/.
Rumor has it this place has not changed since the beginning in the 70's, and The Chuck Box is still one of the best places to grab a burger or chicken sandwich. Located on University, smack dab between Mill and College Ave. The made-to-order and cooked-right-in-front-of-you burgers are well worth the wait. Don't worry, if you happen to eat or drink too much to drive, ask your server about a free taxi ride home. http://www.thechuckbox.com/.
Relatively new, but an admirer of traditional methods of Japanese cuisine, Sayuri Sushi Bar is the perfect place to get away from campus life without venturing too far. Located one mile west of ASU on University Drive, Sayuri Sushi Bar offers a wide variety of sushi rolls and Japanese dishes—tempura anyone? And if you're the daring type, take up the grand Godzilla challenge—six Godzilla rolls (tempura shrimp, teriyaki sauce, hot sauce) to be completed in one hour. Free if you complete the challenge. http://www.sayurisushibar.com/.
If you want a romantic evening, look no further than House of Tricks. The quaint restaurant features premium location next to the ASU Gammage Auditorium and award-winning fare, thanks to the fresh picks like pecan-smoked salmon with lemon crema, avocado, red onions and capers. And with their ultra-secluded outdoor dining, it's the perfect getaway for an intimate night with your long-time partner or soon-to-be beloved. www.houseoftricks.com.
For all you breakfast lovers that adore a filling meal with a home-like setting, situate yourself into Matt's Big Breakfast in Phoenix. We're not kidding when we mean big either. Unlike the tiny house-like restaurant it's based out of, the portions are in no way small. Feast on cheese omelets and griddlecakes with a number of sides that is sure to leave you, and your wallet, full by the end. www.mattsbigbreakfast.com. –Kirstina Bolton