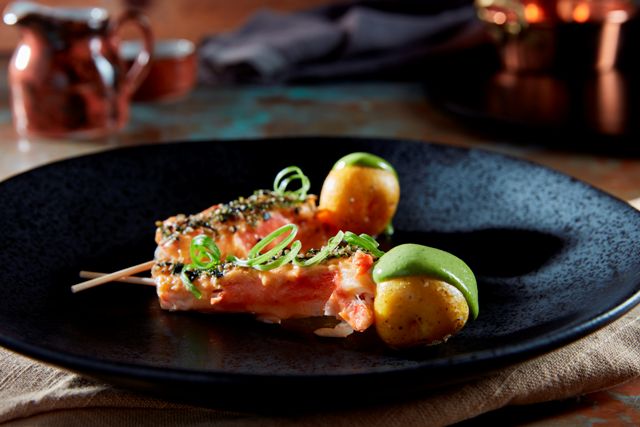 The Westin Kierland Resort & Spa's deseo restaurant has long been a local favorite for inventive fine dining, thanks to its divine Nuevo Latino cuisine and A-plus service. Now that deseo has unveiled a transformed menu from Chef de Cuisine Derek Biazo, which we sampled during a recent dinner stop, here are five reasons to pay the resort restaurant a visit this holiday season. (If the egg nog isn't working, you're bound to impress your Christmas visitors with tuna belly.)
Chutoro Traditor Due to its expense, this tuna belly is hard to find on local menus (deseo's serving is reasonable at $18). The delicate fish basically melts in your mouth like a pat of butter, with the accompanying seaweed salad adding a little crunch to the silky tuna belly. The cilantro salsa verde provides a whole lot of brightness and a pop of lovely green.
Peruvian Fried Chicken Lovingly referred to as PFC, this crispy chicken somehow manages to be sweet and savory and a bit spicy all in one incredible bite. The chicken features a ginger-scallion marinade and rocoto (a type of pepper) sweet chili sauce, alongside pickled jalapeño for a little tang and color. Chicken isn't supposed to be this exciting.
Alaskan Merus King Crab (pictured) A new addition to the anticuchos lineup at deseo is this glorious crab skewer. The crab is flaky and sweet–it would be heavenly on its own. However, the addition of dynamite glaze, a velvety chili-garlic butter and furikake send this baby into overdrive. Dinner conversation literally halted when first bites of this dish were underway.
Arctic Salmon deseo's salmon dish offers such a unique and tempting medley of texture and flavor, thanks to plump golden raisins, toasted almonds and cauliflower, all of which was dished up on a bed of crisp zoodles. A dill chimichurri finished off the flaky fish, offering a familiar salmon sidekick in the dill with a more unexpected one, the chimichurri.
Oasis Though you can't go wrong with any of the decadent chocolate-based desserts on the deseo menu, the tropical Oasis is a work of art. The sweet is served in a glass orb and features a virtual snapshot of Hawaii via tropical gelee, lemon sorbet and pineapple. The dessert, which is equal parts frothy and creamy and cooling, is then topped with milk marshmallow. Not included: sunscreen and flip flops.
Bonus: Get the bread, people. The pan de bono is gluten-free and served with a drool-worthy garlic butter while the sweet potato brioche is warm and ready to lather up with whipped agave cinnamon butter.