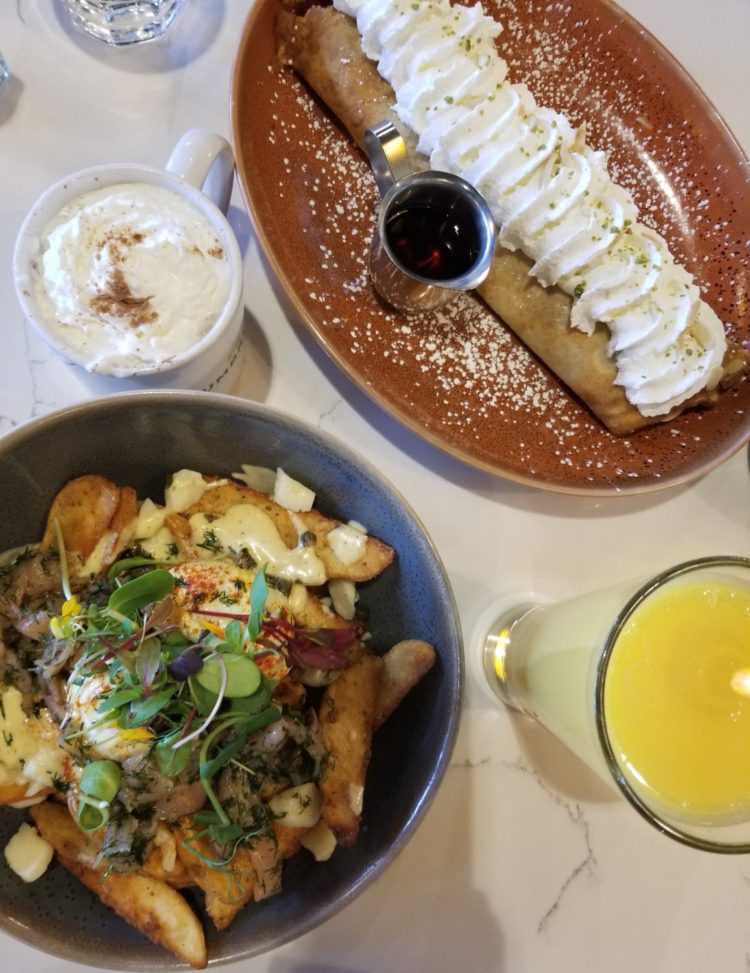 Poutine is one of those dishes that I've always felt pretty lukewarm about. Traditionally, the Canadian favorite features French fries and cheese curds topped with a brown gravy. While we'd gladly take down a helping of fries or cheese curds, altogether the dish never appealed to me. That was until OEB Breakfast Co. opened its doors in Scottsdale earlier this winter.
Known for its incredible lineup of poutines (the restaurant is from Canada, after all), I knew I had to give it a go. Instead of heading toward a traditional option or a super-decadent one, like the Chunky Lobster Scramble poutine, I fell somewhere in the middle with A-Lott A-Laks. This dish features two poached eggs, duck fat-fried herb potatoes, fresh local cheese curds, cold smoked salmon, fresh dill, fried capers and a brown butter hollandaise.
Smoked salmon plus dill plus capers is forever one of my favorite flavor combos, and it was divine married with the runny eggs, crisp potatoes and creamy cheese curds. It's safe to says A-Lott A-Laks has transformed me into a poutine fan, and I look forward to sampling OEB's various other options.
Tasty tip: To balance the richness of the poutine, the Do Not Even Go There French-style crêpe did just the trick. The larger-than-your-head but shockingly light crêpe was filled with vanilla custard, berries and banana and topped with a ribbon of whipped cream and pistachio bits.
OEB Breakfast Co. offers takeout options available at all locations and encourages guests to take advantage of these during this time.