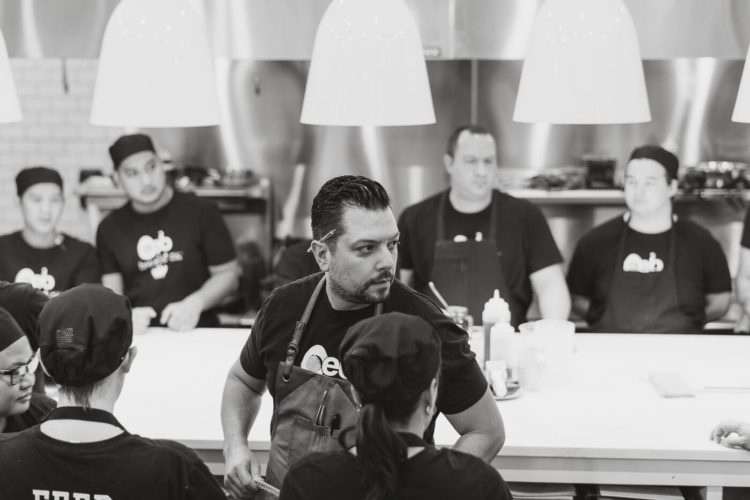 Get to know Chef Mauro Martina of OEB Breakfast Co., which just opened its first location in Scottsdale after long-time success in Canada.
How did you get into the dining realm? As I grew up in Italy, this started at a very early age and came naturally, I think. The constant exposure to fresh food markets, fishmongers, butchers and bakers stuck with me as I was growing up. I loved the way my parents and grandparents interacted with them. There was an understanding that if something was not available at the butcher, it was because he had not killed it the day before. So the food was always fresh – something I'm after still today when I create or think about new dishes. With our daily trips to the markets, we understood that not everything was available to us at all times, and we had to make dishes out of what was available. Perhaps the zucchini or zucchini blossoms were not ready for harvest or that artichokes were not in season. I loved that. I also loved the constant baking of fresh bread in my house.  I remember waiting for hours for the bread to come out of the oven, just to have the first slice. I felt complete and satisfied when that happened. These memories are deep and profound, and something I won't and can't let go of. It will be with me forever, and I hope to pass that on to the next generation of cooks today.  
Tell us about OEB Breakfast Co. OEB started in October of 2009, so we are actually celebrating 10 years this year! I have to say it has come a long way, and I'm proud of the accolades and achievements we've had over the years. OEB is a chef-driven concept, though our focus is not only on our vision, but also on all the people that make it happen for us. From farmers, to entrepreneurs, restaurant managers and committed owners alike, it's a team effort to work hard and to stay the course. I always said I would not be here without the farmers that make things happen for us. We need to start with great products and let these products speak for themselves. The magic happens in the fields and barns, and we are given an opportunity to make these ingredients shine. OEB is where breakfast is taken seriously, but without being stuffy or obnoxious about it. It is a place where everyone is welcomed, no matter your age or financial situation; a place you feel good in; a place where you can unwind and spoil yourself if you want. It's a place you'll want to return to, not only for the culinary experience and ambience, but also for the connections that are made with our team members. OEB has evolved over the years, not only from the menu aspect, but also in regards to décor and ambience. I am proud to say that we prefer not to be a cookie cutter space but rather each a unique space, which tells you a story, and speaks its own language. 
Why was Scottsdale decided on as the spot to host the first U.S. location? I love Scottsdale. It's a vibrant culinary city with huge potential to add to. I was fortunate to visit Arizona several times before even thinking of opening a restaurant. When I was invited to visit the car auctions a few years ago, I felt an immediate connection. It was a place I wanted to explore further. As you know, we currently have six restaurants in Canada, five in Alberta and one in British Columbia. As it happens, people from all three cities fly down to escape the cold in the late fall and winter and call Arizona home for a few months, so it was only natural to have our first US location in Scottsdale. 
There are stellar breakfast outposts in Scottsdale. In what ways will OEB Breakfast Co. stand out from the pack? Yes, there sure are, and we want to add our unique twist to that. Each player brings something different to the consumer, and I feel we can only add to an amazing culinary scene by supporting local wherever possible. From butchers, to egg farms, bakeries and so on, we can't wait to learn, teach and inspire. OEB is very unique in its offerings, and knowing where your food comes from and who grew it, are essential to my approach. This is not just buying and selling; this is much more. This is about pushing others to create and to challenge to become the very best in the industry. It's an art I love. Visiting farms and shaking farmers' hands is what I feed off. We have met some incredible people in Arizona that I can't wait to support and grow with. We/I need to create, explore and demand, as we all deserve better, not only for today but also for the future to come.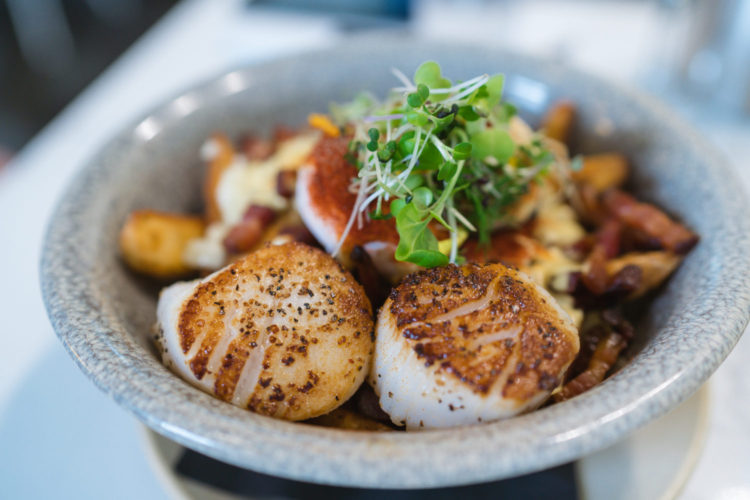 OEB Breakfast Co. is said to elevate the entire "breakfast experience." What is meant by that? Breakfast has always been seen as "the greasy spoon," something that chefs have not taken seriously enough over the last decade. I think we have changed that. In fact, I am proud to say that OEB has changed the way many people have breakfast today, or at least have experienced breakfast until now. We have been serving items that no one would think of serving for breakfast. Have I mentioned diver scallops (pictured)? Sturgeon caviar? Wild boar or even rabbit mortadella? You would perhaps find these amazing items on a fine dining menu at the Ritz-Carlton or other fine establishments, yet these are also daily offerings at OEB. I challenge myself and my culinary team to be innovative, creative and demanding. We have to be. It's the only way I know. An egg is not just an egg! It's god's gift. Just look at what the possibilities are! Look how many ways you can cook it. It's the star in any breakfast place! So researching the right egg was crucial.  It has to be pasture raised, cage free, naturally grown, vegetarian fed, and GMO free. This is what we want and have, and it's the only egg I would serve to my guests, no ifs, ands or buts.  
What are your hopes for the restaurant long term? The long-term hope is to support the local markets, not only by building more stores, but also by making an impact on the local economy with job growth and opportunities in Arizona and beyond. The vision is to expand in different states in the U.S., by offering not only a lifestyle business but also investment opportunities for anyone who loves this industry. The relationships between OEB, farms, ranchers and entrepreneurs alike are all critical. We want and demand the best, period. This also applies to the franchise and business partners we work with. My personal goal would be to become a global brand by partnering up with boutique hotels or properties that want to be different, and to get engaged in our communities, in charities, and so on. It's a long shot, but that's the fun part of being a founder and visionary. 
For first-time diners, what is your can't-miss dish? OEB has so much to offer with a vast menu that covers so many bases. One of my personal favorites would be the Pierogies & Duck, a unique approach to an eastern European potato and caramelized onion dumpling, with duck confit, bacon lardons, scallions, raspberry vinaigrette, sunny side free range hen eggs and fresh micro herbs. Another favorite and my first choice in breakfast poutine bowls has to be the Soul in a Bowl, with duck fat-fried herb potatoes (also available in canola oil, if duck fat is not your thing), local cheese curds, double smoked bacon, soft sous vide hen eggs, brown butter hollandaise and smoked paprika. This poutine is a true winner ever since we launched this item 10 years ago. It's still the bestseller in all locations. And let's not forget the Sweet Dreams crepe, a French-style crepe freshly made in-house with vanilla custard, fresh berries and bananas, fresh whipped cream, toasted almonds, Sicilian pistachios and powdered sugar. OEB is known for sharing, the more the better, so picking out one dish is good, but sharing a few more is much more fun!