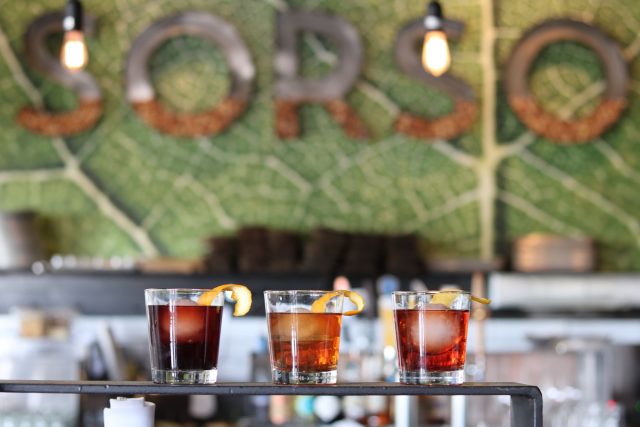 Foodie news roundup for the week of March 26.
Sorso Wine Room (pictured) invites guests enjoy the Scottsdale wine bar's new specialty cocktail menu. House specialty concoctions include the Pompei withTempleton Rye, Ancho Reyes Liqueur, Carpano Antica Vermouth, AZ Bitters Lab Mas Mole and bitters; The Skinny One with Casamigos Reposado Tequila and Tres Agaves Agave Nectar with lime juice, splash of soda water and a lime wedge (with optional Prosecco float) and the Hard ROC with Buffalo Trace Bourbon, ROC2 Cold Press Coffee, Buffalo Trace Bourbon Cream Liqueur and espresso beans. Upgraded traditional sips and inspired mules are also available.
102.5 KNIX is celebrating a major milestone this year, as 2018 marks their 50th anniversary in Arizona. To commemorate this milestone, the station teamed up with the fellow locally grown Huss Brewing Co. to create a collaborative, special edition Scottsdale Blonde can. The 50th Anniversary cans will also commemorate five years of Huss, and will debut at a Can Release Party at the Huss Brewing Co. Pop-Up Taproom at Desoto Central Market on March 30 from 4 to 7 p.m.
The Breakfast Burger is back at Hopdoddy Burger Bar. Dig into an angus beef, breakfast sausage and ham patty with an egg and potato hay, all held together between a toasted egg bun, April 4-25.
Portillo's is offering guests a sweet treat in celebration of the brand's 55th anniversary. On Wednesday, April 4, customers can enjoy a slice of Portillo's Famous Chocolate Cake for just 55 cents with the purchase of an entrée.  The double-layer cakes are baked fresh every morning, before being frosted with chocolate icing.
Doughbird has launched a brand new happy hour which will be available Monday through Friday from 2 to 5 p.m. in the bar. The happy hour menu will feature a selection of draught beer for $4 and house red or white wine by the glass for $6. Cocktails lovers will enjoy a lineup of $7 sips. Plus, pizza by the slice – Margherita or Pepperoni – is just $4, and a variety of other dishes are available at wallet-friendly prices.
Farm & Craft in Scottsdale has launched 11 new menu items, including vegan ceviche, chilled raw pad Thai and seared cauliflower steak. Plus, the restaurant updated its happy hour menu and added two new breakfast items: a crustless quiche with cage free eggs, cheddar, chicken sausage, braised kale and chili flake served with a petite salad, and steel cut oats with slow cooked coconut milk, turmeric vanilla almond milk, blueberry and apple relish with chia seeds.
To celebrate National Small Business Owner's Day on March 29, Luci's Healthy Marketplace and Luci's at the Orchard will be offering 10 percent off all marketplace items from open to close. Guests can buy anything from scented candles to artisan soaps, toys, games for the kids and other unique gifts.
National Pita Day is Thursday, March 29, and Pita Jungle is inviting you to get your pita fix with an all-day pita promotion. With any signature dip purchase, guests will receive unlimited pitas to enjoy on Thursday, March 29, at participating Pita Jungle locations. (Guests must eat their entire pita before receiving another. Only valid with the purchase of a dip (any hummus flavor, tzatziki, garlic dip or baba ganoosh). Not valid on pita sandwiches. Must mention this deal. Dine-in only.)
Miracle Mile Deli wants to provide customers with a traditional Passover meal. From Friday, March 30, through Saturday, April 7, guests can enjoy brisket of beef, steamed veggies and a cup of Matzoh Ball Soup for $13.  They will be serving up this special all day and every day throughout the week.
Chompie's celebrates the start of Passover with a special dine-in menu on March 30 and March 31. The dinner for $32.95 for adults and $14.95 for children includes soup, starter, choice of traditional entrees, sides and dessert. (Passover starts at sundown on March 30 and ends at sunset on April 7.)
Scramble is offering free pancakes all day next Monday, April 2, as a part of their grand opening celebration at Biltmore Corridor. Guests are also encouraged to text: ANEWSCRAMBLE to 602.666.9843 to receive a free drip coffee or fountain drink (good through April 8).
For more fab foodie news, become a fan on Facebook and follower on Twitter @AZFoothillsFood and Instagram @AZFoothills.