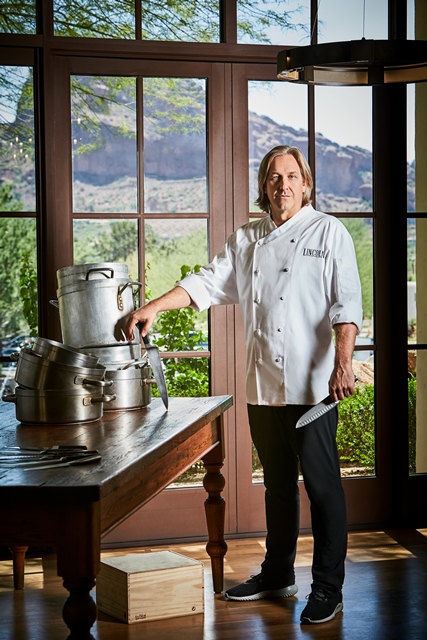 During a fall media event at Lincoln at JW Marriott Scottsdale Camelback Inn Resort & Spa, we were over the moon about Chef Paul Millist's incredible steak, courtesy of the Josper charcoal oven. Here, we talk steak with him (he even offers up his four steps for prepping and cooking the perfect steak) that will help at-home chefs dish up sweet cuts at their own dining room table. 
How should someone go about choosing what cut of steak is best for their needs? (Serving two people vs. a large party, a casual weeknight meal vs. a fancier dinner party, etc.) If it is just two, something quick like a filet so you can continue to have a romantic evening and enjoy an expensive burgundy. For larger parties, I like a standing roasted prime rib. It's more impressive and shows off your grilling expertise.
When cooking at home, where do you like to purchase your steaks? From a local butcher shop or a local farmers' market that features meats.
How should a home cook prep and cook their steak? Basic seasoning (salt, pepper, pimento powder), hot grill or hot pan, fast sear, done.
What are your favorite easy-to-make sauces to serve with steak? Love to make béarnaise or pesto or quick sear mushroom sauce with chicken stock, thyme or rosemary from the garden, a little grain mustard and butter.
What about your favorite side to serve? Mashed potatoes.
How do you pair your steak with wine? Big , fruity, tannic, red.