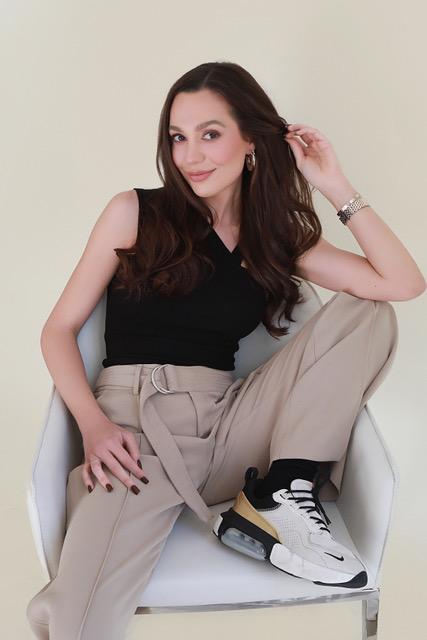 Name: Molly Argue
Instagram: @mollyargue
Website: www.urjabeauty.com
Age: 28
Title: Co-Founder of URJA + TV Personality
Married/Single: Single
Kids: No
City you live in: Currently living between Scottsdale + Los Angeles
A typical day in my life includes… As an entrepreneur, every day is different, and I wear a lot of hats. At this stage of my life, my Mondays – Fridays are primarily focused on my business. On an ideal workday, I wake up and read from my bible before getting in a workout (I alternate between yoga and SoulCycle typically). I make a coffee at home or pick-up an oat milk latte, then jump into URJA for the day. After work, I catch-up with my girlfriends. I love to cook, so when I can, I make something healthy for dinner at home. I spend my evenings with my pup (Chloe) and typically stretch before heading to bed. On the weekends, I am usually traveling and spending time with my friends.
I was born… September 9th and am a true Virgo (loyal, kind, hardworking, a perfectionist).
My favorite thing about Arizona… Arizona = family.
I'm listening to… URJA's playlists on Spotify. As I type this, the CALM playlist: https://open.spotify.com/user/expv1axb4057j6qwjtaez9k2c?si=EExNxUrVQrikV1srFYu5yQ
My family… is most important to me.
If I could have dinner with anyone, it would be… my future husband ☺
One thing I cannot live without… my phone.
When I was younger, I wanted to be… a news anchor.
I'm inspired by… my mum, my best friends, female founders of companies that are making a difference in the world, music and design. I typically find inspiration in my relationships and in anything creative.
The one person who motivates me is… my business partners, Liz Bishop and Dr. Sherry Ross!
If I could change anything in the world, it would be… a surplus of kindness. Everyone has challenges and pain. We are growing and learning together. We all need more kindness and grace in our lives – towards others and ourselves.
The perfect day would be… making memories somewhere remote with those I love the most, opening a bottle of wine and making dinner together. No phone, good music, dogs.
My first job was… as Director of Partnerships for Kat Tanita of With Love From Kat. We developed and launched her WLFK Travel App together. I still love following her success today.
My favorite escape… London, Deer Valley or Maui
My life… is big.
I'm currently working on… all things URJA, being present and "adult-ing" in general!
Always… invest in yourself, believe in yourself and honor your feelings… do the right thing… wash your hands… take the risk… nurture your friendships… drink a lot of water… pursue the things that make you happiest!
Never… settle.
Favorite Quote… Psalm 34:18, Hebrews 11:3, Job 22:28, 1 Corinthians 13, James 1: 2-4, Judges 6:14-16
Biggest Dream… to have a loving family of my own.
My Pet Peeve(s)… when people judge others.
More About Molly Argue:
Post-graduation from Pepperdine University in 2015, Molly Argue worked as a TV Host in the entertainment industry interviewing some of the biggest names in Hollywood, with interview segments boasting 10 million+ views. Off-camera, Molly pursued her passion for content creation and branding, working with a handful of female-founded start-ups in the lifestyle and beauty spaces.
She was instrumental in bringing several different products + digital apps to market. The Universe aligned when Molly decided to pivot from her high-stress daily grind, move back to Arizona, and focus on self-wellness. In 2018, Molly began working on URJA and is now a Co-Founder. URJA is a healthy and holistic skincare + women's wellness brand. To discover URJA, visit www.urjabeauty.com. Read Molly's full bio here.