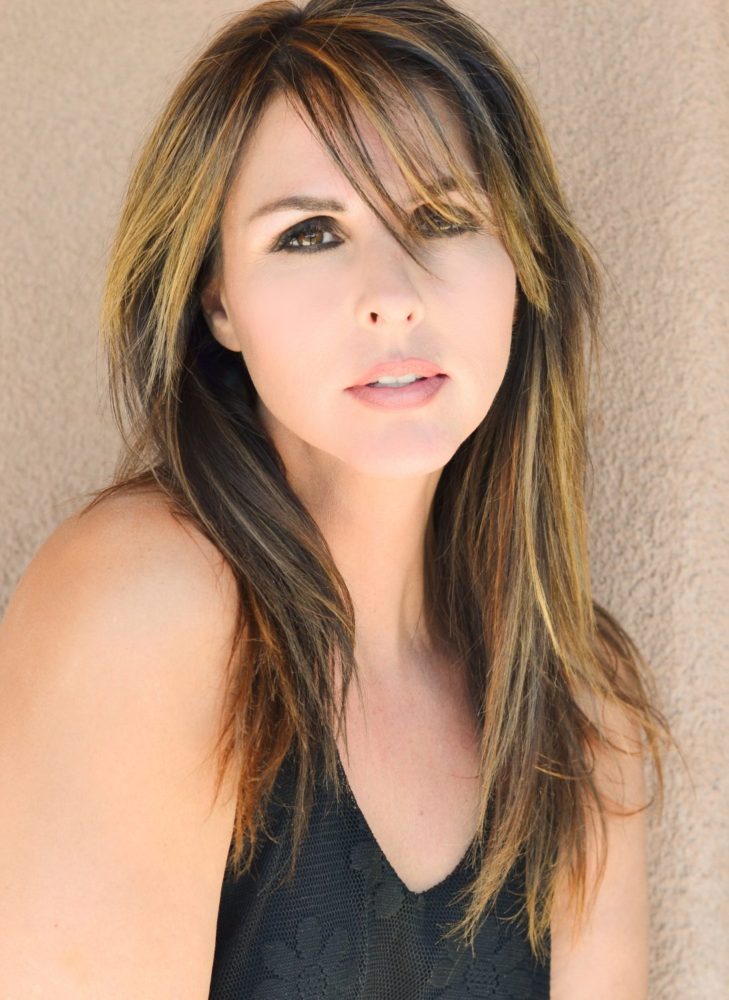 Photo Credit:  Altitude Photo Productions / Photographer-Brian Sena
Name: Raquel Aurilia
Raquel Aurilia Music Facebook 
Raquel Aurilia Personal Facebook 
Age: 46
Title: Singer/Songwriter
Married/Single: Single
Kids: Two amazing boys named Chaz & Gavin
City you live in: Phoenix, AZ
A typical day in my life includes…
not sure there is a "typical day" for me… if I'm not traveling, it would start off with hot yoga/working out. writing and/or promoting my music, ,running errands & being a "taxi-mom" for my 2 very active young golfers and taking care of everything else that needs to get done within the day. It often ends with winding down in bed with one of my many recorded TV series!
I was born…
in Gallup, NM- I was the only one in the hospital, so my parents can't say I'm adopted!
My favorite thing about Arizona…
I love the weather here. Even when I am melting in the summer it's worth it for the weather the rest of the year!
I'm listening to…
Elton John, The Beatles, Blake Shelton, Eminem (all over the map).
My family…
is amazing! I have the most supportive, loving, giving and fun family I could ever ask for. They have always gone to all my events and have helped me with anything I ever need. I'm truly grateful for them! Plus they are a blast to be around, tons of laughs!
If I could have dinner with anyone, it would be…
PINK! I love her tenacity, her talent, attitude and fearlessness of being the type of artist she wants to be. Love her confidence!! Plus it seems like it would be fun to hang out with her.
One thing I cannot live without…
music!
When I was younger, I wanted to be…
a famous singer 🙂
I'm inspired by…
people who follow their passion, people who "give back" and people who are driven.
The one person who motivates me is…
so many people for different reasons, however, one person that immediately comes to mind is the guy I see at the gym everyday who can barely walk but manages to get up on the elliptical somehow and workout. He's relentless, determined and inspiring! I don't even know his name, I'll have to change that!
If I could change anything in the world, it would be…
to have things be the way they used to be when I was growing up. We would stay out playing all hours without having to worry about not feeling safe. It would great if things could be that way again for everyone. Such a feeling of bliss.
The perfect day would be…
on a beach somewhere…but if that's not possible, the perfect day would start with a good workout, watching my boys play golf, spending the rest of the day creating music, all followed by a great dinner and glass of Cabernet in the company of my family and friends.
My first job was…
working at the State Police Dept in Santa Fe, NM in the mailroom.
My favorite escape…
staying at the Esperanza Resort in Cabo. I can't get enough of Cabo and I feel completely at peace there.
My life…is a blessing…
it can be crazy at times, fun, interesting and seems to always be full of surprises. I'm constantly on the go. I function better this way.
I'm currently working on…
promoting my new album "Long Way Home."
Always…
do what you love.
Never…
compromise your integrity.
Favorite Quote…
"There are many things in life that will catch your eye but only a few will capture your heart…pursue those" – Michael Nolan
Biggest Dream…
to travel the world with my kids sharing my music and experiencing new and exciting places together while I get to do what I love!! Microphone & Golf clubs in tow!
My Pet Peeve(s)…
negativity, people who are always late, & the person who is talking really loud on the their cell phone in public like they are alone (although it can be entertaining and annoying at the same time).

Photo Credit: Cristiana Cole Photography