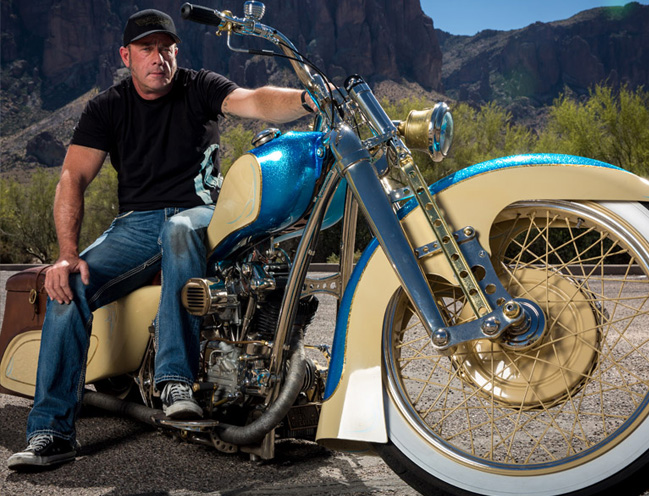 Name: Len Edmondson
Age: Depends on the day!
Title: CEO AZZKIKR Custom Baggers and reality TV personality.
Married/Single: Married
Kids: 4 of them: Big, Bold, Bad, and Beautiful.
City you live in: Fountain Hills AZ, Vancouver Canada, and a motorcycle rally near you!
My day is like…
every other day, full of events that illuminate our time!
I was born…
in sunny and hot Winnipeg Manitoba (that's a joke LOL).
My favorite thing about Arizona…
YOU! The people, and of course outstanding riding.
I'm listening to…
Rolling Stones, U2, and Kanye West "Holla!"
My family…
ROCKS!
If I could have dinner with anyone, it would be…
James Dean in a diner.
One thing I cannot live without…
fast cars, fast bikes, and new roads.
When I was younger, I wanted to be…
a rockstar or a priest but the church wouldn't have me.  
I'm inspired by…
those that are creative, who push their limits, don't follow the norm, and are real!
The one person who motivates me is…
WTF? Not one but four of them. Big, Bold, Bad, and Beautiful!
If I could change anything in the world, it would be…
time. How do we get it back?
The perfect day would be…
an Arizona sunset, a cool beverage after a long ride with my family, friends, and you!
My first job was…
washing cars, building homes, kicking ass, and taking names.
My favorite escape…
riding in the rain.
My life…
is crazy right now, but amazing.
I'm currently working on…
building badass bikes for Sturgis! Be there!
Always…
look at the positive.
Never…
be afraid to try.
Favorite Quote…
"Dream as if you'll live forever. Live as if you'll die tomorrow!" ― James Dean
Biggest Dream…
I'm already living it.
My Pet Peeve(s)…
drama, it always seems to follow me around!
Click here to order a Trendsetters reprint.