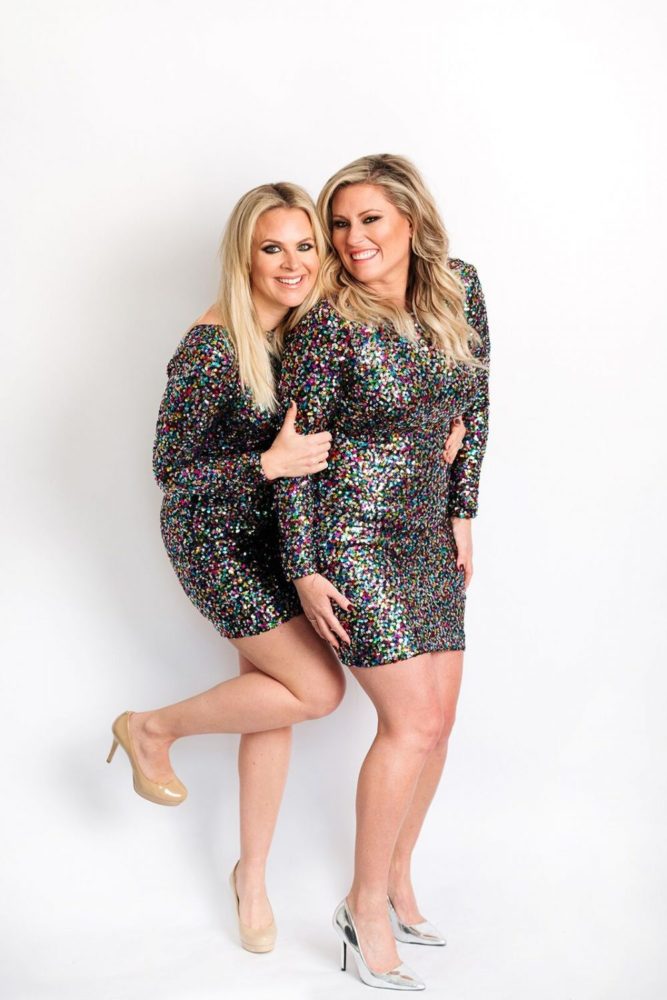 Name: Cat & Nat
Age: 30 Something
Title: Cat & Nat cofounders
Married/Single: Married
Kids: Seven total, Cat has three & Nat has four.
City you live in: Toronto
A typical day in our life includes…
children, work, more children, meetings, making food the kids wont eat, laundry, maybe touring, and trying to get a bathroom break.
We were born…
yes…
Our favorite thing about Arizona…
when we did a live show there and it was AMAZING.
We're listening to…
children yelling in our face.
Our families…
are everything.
If we could have dinner with anyone, it would be…
the Rock, Oprah, Pink, Beyoncé, Michael Strahan.
One thing we cannot live without…
each other.
When we were younger, we wanted to be…
moms.
We're inspired by…
moms who kill it everyday, single moms, working moms, moms without support, moms with support. All the moms.
The one person who motivates us is…
each other.
If we could change anything in the world, it would be…
for every child to feel loved and not be alone.
The perfect day would be…
children who get along and the entire family together.
Our first job was…
babysitting and waitressing.
Our favorite escape…
Instagram Stories.
Our life…
is unbelievable.
We're currently working on…
everything, always.
Always…
thankful.
Never…
unthankful.
Favorite Quote…
"All your kids want is you, not the fit mom, PTA mom, organized mom, just you the way you are, always." – Cat & Nat
Biggest Dream…
to never stop dreaming.
Our Pet Peeve(s)…
closed minded people.
More about Cat & Nat…
Cat & Nat head up a rapidly exploding community of like-minded moms, who tune in daily to watch them rewrite the paradigm of "the perfect mom". With honesty and humor, Cat & Nat dismantle the unrealistic portrayals of motherhood and are often presented throughout social and traditional medias. They share everything moms think, but are too afraid to talk about. Cat & Nat are best known for their virally famous #MOMTRUTHS, which have garnered hundreds of millions of views around the world.
Cat & Nat are also contributors on Orion Television's exciting new series 'THE DRAMA', a hilarious 'Dear Abby' meets 'Girl Code' hybrid which tackles questions on a variety of topics- from health and family to style, friendship and dating- to be answered by a panel from around the country. The series premiers on August 13, 2018 at 12:30pm PT for a two week run on Phoenix's FOX 10.

Click here to order a Trendsetters wall plaque.