Halloween is right around the corner so I thought it would be fun to write a fun little Trick Or Treat workout! No, sorry you don't get to go trick or treating but you will get to break a little sweat while all the kiddos have all the fun! Do each one of these things as they occur throughout the night!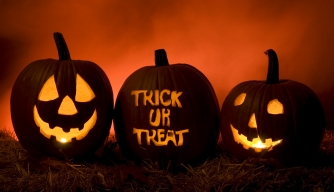 When you see a Disney Princess Costume: 20 seconds of high knees
When you see a Superhero Costume: 10 lunge jumps
When you see Someone wearing a Mask: 10 squat jumps
When you see Teenagers that are too old to be trick or treating: Chase them down the street to scare them off… Just Kidding! Drop down and give me 20 seconds of mountain climbers
Every time you eat a piece of candy: 20 burpees
When you see a Witch Costume: 10 Plank Jacks
When you see A dog dressed in a costume: 20 seconds of lateral jumps
Every time the door bell rings, yes everytime: 5 Tuck jumps, bust them out real quick and don't leave the kids hanging!
This should keep you pretty busy throughout the night but if you find yourself with too much down time between rings hold a plank for as long as you can! Let me know how it goes and how sweaty you go!
Madison Murray is a certified personal trainer, a group fitness instructor, a certified sports and exercise nutrition coach and a certified functional strength coach. For more information head to www.madfitaz.com or check her out on instagram at @mmmadisonmurray