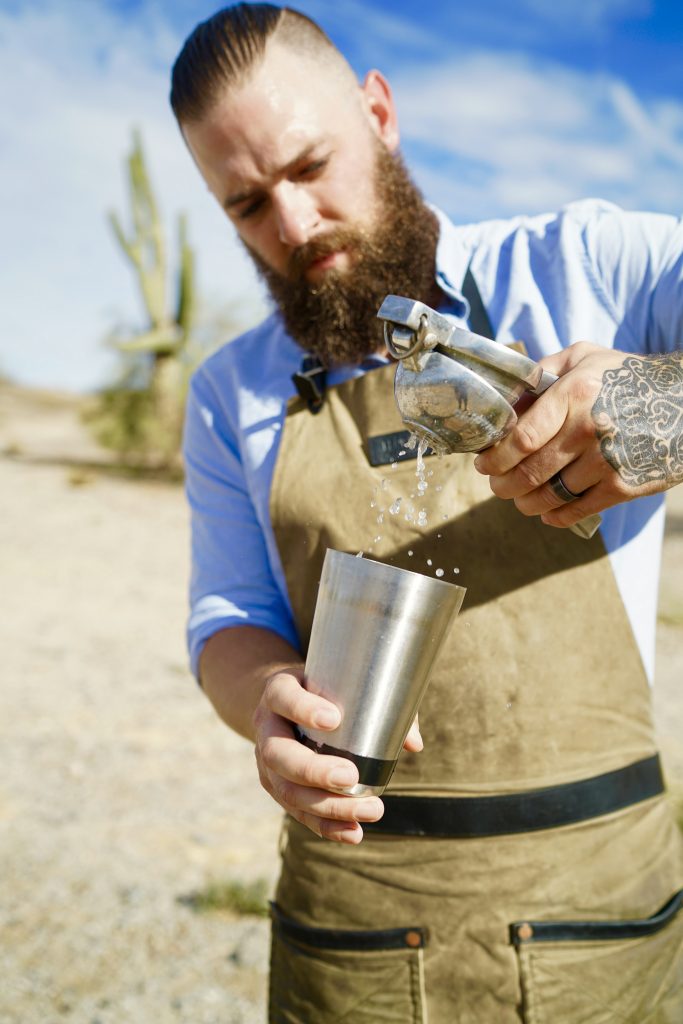 Say hello to Blue Hound Kitchen & Cocktails's newest bartender, Phil Clark, an East Coast veteran who most recently led the bar programs at Brabo by Robert Wiedmaier and the James Beard-nominated Mockingbird Hill in Washington D.C. Now, mixing up drinks in the heart of Downtown Phoenix, Phil has introduced a new menu of 11 original, innovative cocktails (while also keeping some Blue Hound favorites) including the Junglebird, which after only a few weeks on the menu, became the new most-ordered cocktail, knocking the four-year reigning Lawless from the top spot. Keep reading for Phil's top recommendations, his favorite drink to sip on and more.
Favorite drink to mix: The Queen's Park Swizzle. Everything about this Caribbean drink, or at least my version of it, is perfect for the guest experience. The Queen's Park has a great name, a rich history, a complex and novel construction, a deep set of balanced flavors and a stunning visual presentation. No matter what, there's always a fun conversation to be had when the swizzle stick starts churning up the ice!
I'd most like to mix a drink for… Tim Ferriss. The famed author and podcaster has created a cottage-industry-turned-empire around deconstructing complex structures and systems, drawing out best practices, and teaching those advantages to others. Those are the very same principles that have informed this incredible cocktail renaissance that we're all fortunate to be a part of, and I'd love to pick Tim's brain about structure and leadership while whipping up some classic libations.
If I could have one superpower while working, it'd be… Easy. Dr. Octopus' arms. At least once a shift, I think, "If only I had more hands, I'd be unstoppable back here…"
If I were a flavor, I'd be… Hogo. That musky, wild, earthy, robust, can't-put-your-finger-on-it umami flavor in great Caribbean rums. There's something deep and warm, yet brash and audacious, about that sensation that I really identify with.
My top recommendation at Blue Hound is… Blackened Scallops (big, sweet, succulently spiced scallops from our outstanding kitchen) and Blue Hound's version of a Junglebird, with Campari ice and a mescal mist.
When I'm not working, I enjoy sipping on… Bell's Two Hearted Ale. The best beer in America.
The new cocktails reflect Phil's research-driven method to bartending. Putting pen-to-paper, Phil maps out the flavors and structures of each cocktail before actually mixing it up. This allows him to break down the ingredients in traditional recipes so he can better substitute unconventional ingredients in their place. His goal is to give people something they think they know, but with a slight twist. See below for a few standouts from his new menu.
Boba Tea: Black-tea infused Titos Vodka, chai vermouth, coconut milk, cinnamon, tapioca pearls and nutmeg
Junglebird: Grey Goose Vodka, Plantation Pineapple Rum, Cointreau, lime, brown sugar syrup and Campari-infused ice
Black Pepper Pink Melon: Black Peppercorn-infused Ketel One Vodka, St. Germain, lime cordial (made in-house with agave nectar, lime juice and lime zest) and watermelon ice
Grasshopper: Hendrick's Gin, crème de menthe, crème de cacao, cream and soda
For more information, visit: bluehoundkitchen.com