If you're planning on hosting any holiday parties or get-togethers this season, crafting your own signature cocktail (or two) is a sure-fire way to entertain and quite literally lift your guests' spirits.
Pomegranate Martini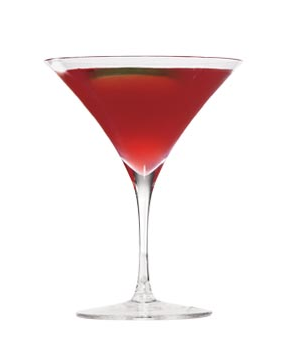 This pretty red-hued cocktail is fortified with Cointreau and sweetened with simple syrup, making a perfect pre-dinner cocktail.
How-to:
1/4  cup  sugar
3/4  cup  vodka
1/2  cup  pomegranate juice
1/3  cup  fresh lime juice
1/4  cup  Cointreau
lime slices, for garnish
Chill 4 martini glasses. Meanwhile, in a small saucepan, bring the sugar and ¼ cup water to a simmer. Remove from heat and let cool.
In a large pitcher, combine the sugar syrup with the vodka, juices, and Cointreau. Add 2 cups ice and stir until well chilled.
Strain the martinis into the chilled glasses; garnish each with a lime slice.
Pear and Cranberry Bellini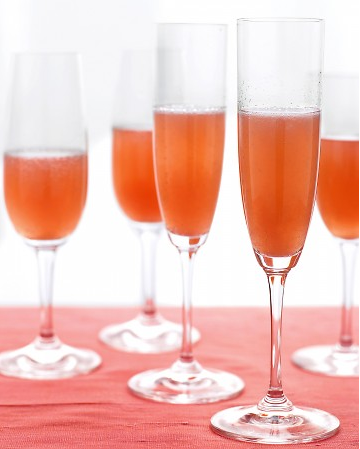 The blood-orange juice turns what would ordinarily be a mimosa into a lovely ruby-tinted cocktail.
How-to:
1 cup pear nectar
1 cup cranberry juice cocktail
1 bottle Prosecco or other dry sparkling white wine
In a small pitcher or large liquid measuring cup, combine pear nectar and cranberry juice cocktail. Pour 1/4 cup juice mixture into each of eight champagne glasses. Dividing evenly, top with Prosecco or
other dry sparkling white wine.
The ultimate festive cocktail of the season, garnish with some Holiday-themed decorations for that little extra something.
How-to:
2 cups fresh or thawed frozen cranberries
1 cup pure maple syrup
2 cups dry red wine, such as Pinot Noir
1/2 cup packed light-brown sugar
1 vanilla bean, split, seeds scraped
Thin strips of zest from 1/2 lemon
2 teaspoons pink peppercorns, crushed
Pinch of coarse salt
2/3 cup granulated sugar
2 cups seltzer
Preheat oven to 350 degrees. Put cranberries into a large, high-sided skillet; set aside. Bring syrup, wine, brown sugar, vanilla bean and seeds, lemon zest, peppercorns, and salt to a boil in a medium saucepan, whisking occasionally.
Pour over cranberries. Cover tightly with foil, and bake until cranberries are soft but have not burst, about 10 minutes. Using a slotted spoon, transfer cranberries to a bowl; cover with 1 cup cooking liquid. Let cool completely.
Bring 1/2 cup cooking liquid and the granulated sugar to a boil in a small saucepan, whisking until sugar has dissolved. Reduce heat to low; simmer until liquid has reduced and barely coats the back of a spoon, about 6 minutes. Pour through a fine sieve into a medium bowl; let cool completely. Syrup can be refrigerated in an airtight container until ready to use, up to 3 days.
Reserve 40 cranberries. Puree remaining cranberries and liquid in a blender.
To serve, place 10 reserved cranberries on each of 4 decorative skewers. Pour 1/4 cup puree and 1/4 cup syrup into each of four 12-ounce glasses; stir to combine. Add skewers, and fill glasses with ice. Top with seltzer, and serve.
Eggnog

You can't go wrong with this holiday staple, infused with bourbon, dark rum and cognac, all topped with freshly grated nutmeg. This beverage will have your guests chatting away fireside.
How-to:
12 eggs, separated
1 1/2 cups superfine sugar
1 quart whole milk
1 1/2 quarts heavy cream
3 cups bourbon
1/2 cup dark rum
2 cups cognac
Freshly grated nutmegIn a very large bowl, beat egg yolks until thick and pale yellow. Gradually add sugar to yolks. With a wire whisk, beat in milk and 1 quart cream. Add bourbon, rum, and cognac, stirring constantly.
Just before serving, beat egg whites until stiff. Fold into mixture. Whip remaining 1/2 quart heavy cream until stiff, and fold in. Sprinkle with nutmeg.
Source: food.com, marthastewart.com