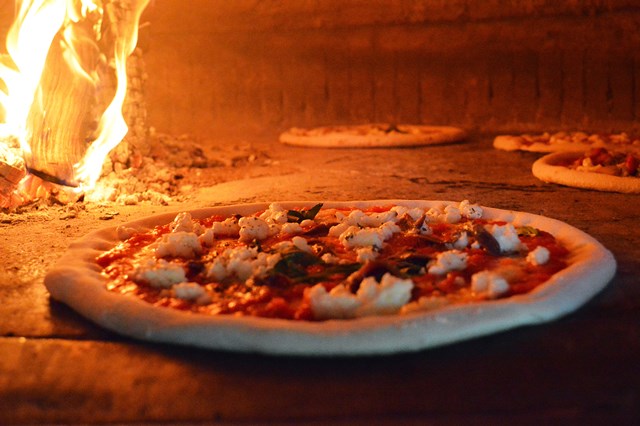 Now that the Valley is in prime dine-outdoors weather, a trip to Gilbert's Heritage Square is in order–and we suggest popping by Pomo Pizzeria for a divine meal on a comfy, cozy patio.
Not only does Pomo have a colorful (love the orange chairs!) and comfortable patio to suit the entire family (there is a wonderful kids' menu), it is along Gilbert Road, allowing for stellar people-watching. So grab a spot in the open air and settle in for a tasty Italian feast, starting with the delicious fritto misto, which is a hearty helping of baby squid and shrimp floured with spice and sided with a zesty homemade sauce. Another light way to kick off a meal at Promo is the Siciliana salad, one of our favorite salads in the Valley. The simple, no-frills salad with a tasty medley of Sicilian tuna, spring mix, grape tomato and large chunks of mozzarella that is simply dressed in olive oil.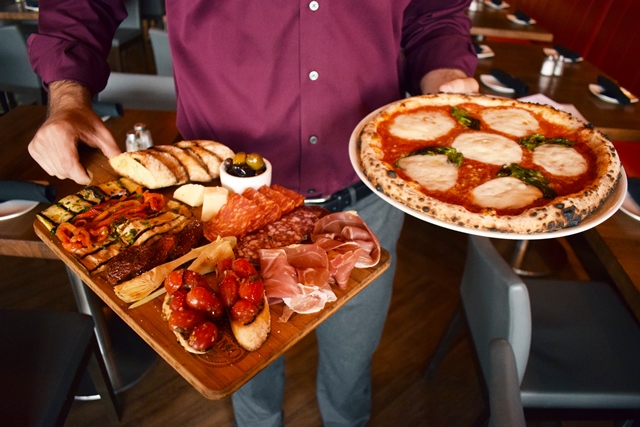 For a warming, satisfying and utterly comforting main dish, you can't go wrong with one of Pomo's incredible pasta dishes, with Strozzapreti alla Salsiccia being a popular choice. The thick, hearty strozzapreti pasta is topped with Italian sausage, tomato sauce, cream, rosemary and parmigiano in a slightly spicy and indulgent dish that is sure to be a table favorite. (Bonus: there is plenty so count on delicious leftovers.)
Though any of Pomo's stellar Napoletana pizzas should be on your must-try list, the Quattro Stagioni is a unique choice. The toppings of the "four seasons" pizza–sausage, mushrooms, salame parma and Gaeta olives–are intended to be crown the pizza individually in quarters. However, you can ask to have them combined for in order to have each tasty ingredient in each bite.
Looking for a laidback weekend meal? Pomo Gilbert offers happy hour 11 a.m. to 4 p.m. on Saturdays and Sundays.