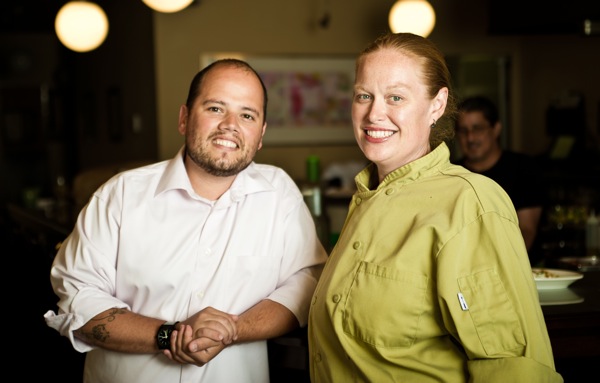 When FnB opened nearly three years ago, Chef Charleen Badman and wine enthusiast/partner Pavle Milic embarked on something truly special in Old Town Scottsdale. Now, the duo have opened three additional food and wine concepts in Old Town that are destined for the same success.
AZ Wine Merchants is a tiny boutique wine shop that features a changing selection of 24 local wines (12 whites, 12 reds) curated by Milic and his business partner Brian Reeder.  One side of the shop holds custom shelves featuring Arizona brands, while the wall opposite the showcases a distinctive collection of half bottles culled from around the world. Milic hopes for AZ Wine Merchants to eventually have an online shopping component. Prices are affordable: $18-$35 for Arizona bottles and $5-$20 for global half bottles. www.buyarizonawines.com.
Baratin is a cozy, small European-inspired restaurant with a menu that has just five dishes: one of Badman's signature sandwiches, pâté, a cheese plate, vegetable and dessert, with prices ranging from $8-$12. Baratin offers half-bottle and by-the-glass wine selections, as well as two local beers. The space will be spare though sophisticated with space is just roomy enough to comfortably hold 11 two-top tables made of reclaimed wood and a small bar with four or five seats. http://baratinrestaurant.com/.
Inspired by the corner convenience stores in Manhattan, Bodega offers a speedy one-stop shop for fresh flowers (courtesy of Maya Dailey) fresh bread (MJ Coe), fresh vegetables from respected local farmers (McClendon's Select, Dave Jordan, Singh Farms and Maya Dailey), fresh eggs (Dave Jordan), local and featured regional cheeses, creamery butter (Rainbow Valley), local ice cream (Sweet Republic) and high-end proteins such as lamb tenderloin, Jidori chicken and Mexican grouper. Badman will churn out ready-made sauces such, 50 fresh doughnuts per day and more. http://azbodega.com/.