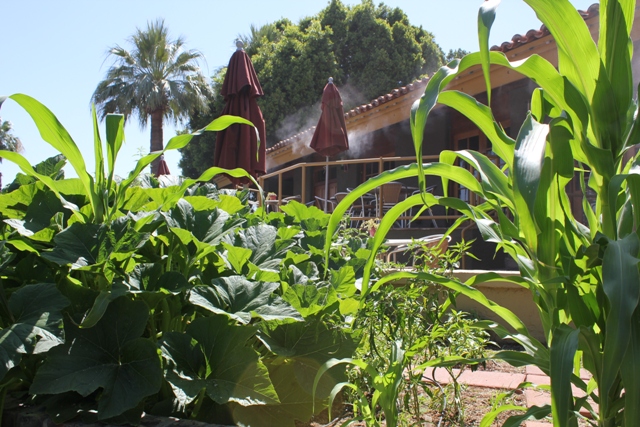 Fresh food just got a fresh face. It's not everyday you can go to a restaurant, lounge in their open-air patio, and have a garden salad be prepared garden-side, instead tableside. Well, at Rico's American Grill at the Squaw Peak Resort at Pointe Hilton in Phoenix, you may just get that luxury from their farm-to-table philosophy that revels in the simple sophistication of good eats.
On any given day, restaurant goers can relax in the comfort of knowing where their food is coming from beyond the kitchen. Rico's chefs, like Executive Chef Kenneth Arneson, take pride in their work by finding the best ingredients at the freshest levels (think organic gardens and wholesome cattle farms). Other than the sleek design inside the restaurant, enjoy the relaxing patio overlooking the restaurant's very own sustainable, organic garden. Daily specials from the menu will use ingredients directly from the garden, giving a whole new meaning to "freshly picked."
Upon my visit, I was welcomed with a kale and spinach smoothie drizzled with local honey, to cleanse my palate and open my eyes to the rest of the courses. Next was a leafy dish of spinach, kale, radishes and citrus fruit from a nearby organic farm, topped with crisp pork belly to add the richness of the dish. The main course offered a combination of comfort food and daring cuisine. Two poached farm eggs rested on a bed of their signature homemade pastrami, brined and slow-cooked to perfection and organic yams rolled in a mustard leaves and chard.
Dessert proved to be even more daring, with a traditional strawberry shortcake infused with sweet basil from the restaurant's garden. The bold taste of basil wrapped in the sweet, citrus of the strawberry highlighted the balance between opposing tastes on the tongue.
Now, if you're not sold by the vibrant atmosphere and innovative culinary creations, perhaps the price of it all will. Breakfast, lunch and dinner options are in the well-affordable range and can bring any stickler at ease with the fresh specials and signature dishes all at a price worth savoring. www.squawpeakhilton.com/dining/ricosag. –Kirstina Bolton