One of our favorite local spots for fresh, healthful fare (we hear Oprah is a fan too) has unveiled its summer menu. True Food Kitchen's new seasonal menu spotlights ingredients that not only add a big impact to the dish, but are quite beneficial to one's health and well-being as well. For instance, forbidden black rice is rich in antioxidants while lavender reduces anxiety and improves brain function. We had the chance to pop in to taste test some of the new eats, and we can happily report that these dishes are some of the best we have enjoyed at True Food Kitchen. Here are our faves:
Heirloom Tomato & Watermelon Salad (pictured above) This picture-perfect salad is basically summer on a dish. The plate features coconut-lime yogurt, basil, mint, toasted pistachios and large, glistening chunks of watermelon and heirloom tomato. This dish struck us as a caprese for the warm-weather months. The watermelon and tomato are juicy and ripe, and the pistachios provided that welcomed crunch. And it's pretty, to boot.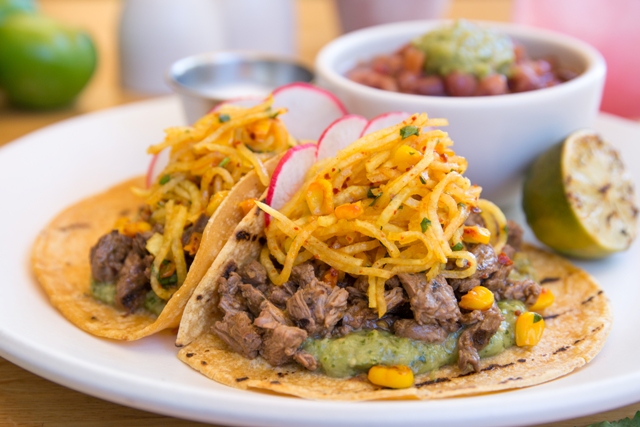 Summer Tacos (pictured above) Though available with grilled fish or grass-fed steak, we sampled the tacos with the latter. The plate comes with two chock-full tacos  with tender meat and are crowned with tomatillo-avocado salsa and a refreshing pickled jicama slaw (we won't be happy with plain-old lettuce and tomato again on our tacos). The real star of this dish is the coconut-lime yogurt (same yogurt used in the watermelon salad) that serves as an alternative to traditional sour cream. It adds a wonderful freshness and creaminess to the dish and complements the sweet jicama slaw beautifully.
Summer Berries Dessert This unique meal-ender is an absolute must during your next True Food foray. Petite but packing a punch, the small bowl is layered with forbidden black rice, watermelon, macadamia nuts and coconut whipped cream. Not too sweet, this dreamy dessert is full of incredible summery flavor and diverse textures. Crunchy, creamy, juicy–it's all there, and it's all good.
Pop de Provence Super refreshing, this fizzy sip comprises lemon, lavender and bubbly water. It has all the frills of a cocktail–without the alcohol.
Lavender Coconut Cold Brew If you need a little caffeine kick, might as well make it a really good one. This drink features cold brew ice, to prevent your coffee from getting watered down. Plus, the addition of crushed coconut will make you forget you're in the middle of the desert and, instead, dreaming away in a hammock with palm-tree views.