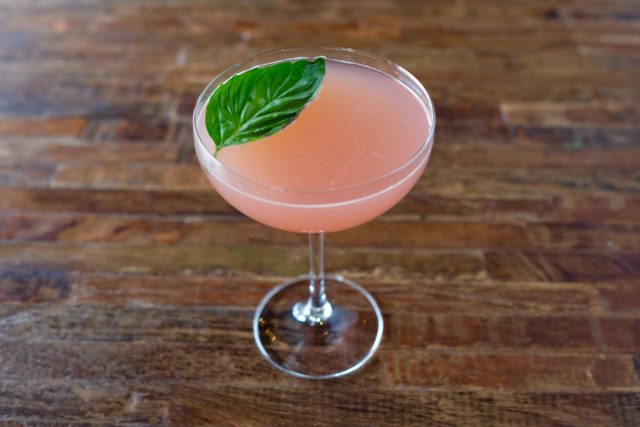 Oprah announced today that she will make a significant equity investment in the mighty popular health-driven restaurant brand, 
True Food Kitchen
. The investment will allow True Food Kitchen, which was founded locally, to accelerate its growth with plans to double its store count in the next three years. Oprah will also join the board of directors as a consultant for the brand's leadership team and extend her strategic insight to support the national expansion of its restaurants in key markets.
But what does Oprah like to dig into when she sits down for a meal at True Food Kitchen? The Thai grapefruit martini and organic Tuscan kale salad!

Thai Grapefruit Martini
0.5 oz Lime Juice
1 oz Simple Syrup
4 leaves Thai Basil
2 oz Grapefruit Juice
2 oz Prairie Organic Vodka
Garnish: Thai Basil Leaf
Combine 0.5 oz lime juice, 1oz simple syrup, four leaves Thai basil to tin. Muddle, then add 2 oz grapefruit juice and 2 oz organic vodka. Shake vigorously.
Double strain into martini glass.
Garnish with Thai basil leaf.
Note: Make sure you're always using Thai Basil, as regular basil adds a sweetness that doesn't flow as well with the grapefruit. The reason we double strain is to remove the tiny bits of Thai basil and to remove the chunks of ice.

Organic Tuscan Kale Salad
Makes 8 Servings
½ cup Extra-Virgin Olive Oil
¼ cup Freshly Squeezed Lemon Juice
3 Garlic Cloves, mashed
½ tsp Salt
Pinch Red Pepper Flakes
2 Bunches Lacinato Kale (about 14 ounces), ribs removed and leaves sliced into 1/4-inch shreds
½ cup Finely Grated Grana Padano or Parmigiano-Reggiano Cheese, grated on a Microplane
2 T Toasted Whole Wheat Bread Crumbs
Garnish:Grana Padano or Parmigiana-Reggiano Cheese Shavings                                                                      
In a salad bowl, whisk together the oil, lemon juice, garlic, salt and red pepper flakes. Add the kale and toss well to coat. Let the salad sit at room temperature for 10 to 30 minutes. Add the grated cheese and bread crumbs and toss again.
Garnish with the cheese shavings before serving. Cover any leftovers and refrigerate for up to two days.