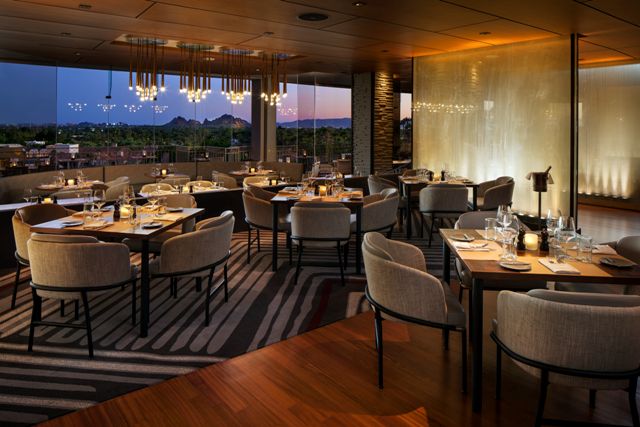 After a three-month-long refresh, J&G Steakhouse at The Phoenician reopened its doors, and we had the chance to check out the new-and-improved luxury dining destination.
The fresh digs were inspired by the dramatic desert landscape that can be spied via J&G's floor-to-ceiling window walls. The refresh is apparent right away as guests enter the J&G lounge, which now features all-new seating and a new glass teardrop chandelier suspended over the red onyx stone bar-top. The multi-level main dining room showcases an updated color palette of deep reds and neutral creams and grays, mid-century-modern-inspired booths and seating, chic brassy chandeliers and polished metal elements. The famed patio can now enjoyed year-round thanks to refinished fire pits and the addition of ceiling fans. Plus, the expanded seating makes it a comfy place to linger with a cocktail and watch the cotton-candy sunset. (We suggest the smokey mezcal negroni from the brand-new cocktail lineup from head mixologist Robert Porter.)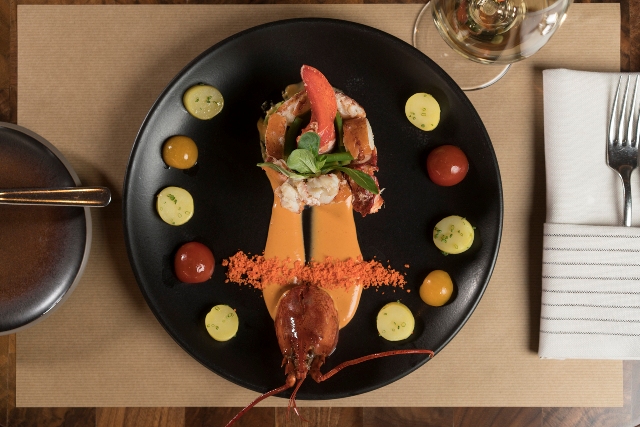 Along with the new look, J&G also unveiled a new seasonal menu from Executive Chef Jacques Qualin, with standouts being the 30-oz. wagyu Tomahawk ribeye and rack of lamb served haystack-style in a bed of still-smoking herbs and hay (both dishes are intended for two diners). To kick off the meal, though, the bite-size black truffle cheese fritters are decadent and delicious, warm and gooey on the inside and crispy on the exterior. The velvety roasted porcini and chestnut risotto, an all-new fall appetizer, is bursting with woodsy autumnal flavor. (We recommend getting this as a side dish to complement your grilled entree.)
Seafoodies will adore the picture-perfect roasted Maine lobster with oregano and chili (pictured) or the simple but scrumptious Maine lobster from the grill, sided with butter and lemon. The six-peppercorn prime NY steak with please those with a hearty appetite; the cut is grilled to perfection and sided with a selection of sauces, with our favorites being the soy-miso mustard and J&G steak sauce. And because all meals need a little green, the steamed broccoli side is heavenly (has that word ever been applied to broccoli?), topped with a little lemon and parmesan. 

J&G Steakhouse is now open nightly for dinner from 5 to 10 p.m.