CityScape in Downtown Phoenix has been booming with activity lately: the opening of Hotel Palomar, the fun pop-up lunch activities and, most recently, the opening of Fuego CityScape. The restaurant, which takes the spot on Vitamin T, dishes up delectable modern Mexican eats in a colorful and casual setting.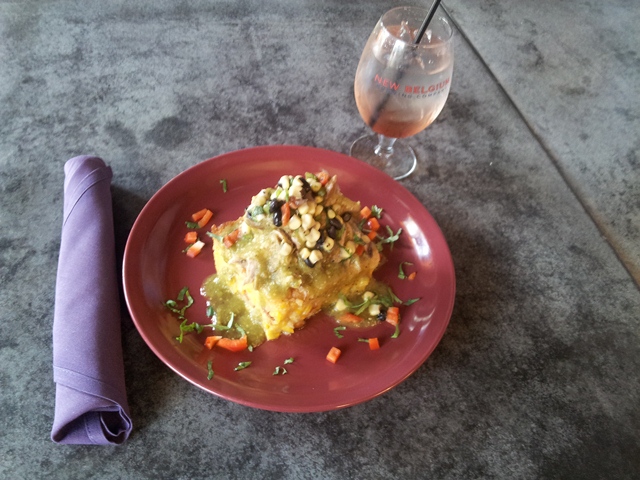 The starters shine on the Fuego CityScape menu. The coconut firecracker shrimp offers sweetness and spice, thanks to a chili glaze and a coat of crispy coconut. The green chile corn bread is another winner and delicioulsy combines sweet and spice. It might not look like much on the plate but the green chile-studded corn bread topped with pork (pernil) and black bean salsa is one of the menu's top dogs. This would actually be tasty rolled up in a warm tortilla.
The entree portion of the menu consists of sandwiches, salads and house specialties. One of the specialities, the empandas, comprise ground beef, cheddar cheese, peppers, black beans and corn in a flaky pastry crust. On top, a Yucatan barbecue sauce rounds out this hearty and taste bud-pleasing plate. Those who enjoy straightforward street tacos will savor Fuego's tacos: corn tortillas topped with sugar-cured cabbage (a Fuego specialty), jack cheese and pico de gallo. Diners can choose among chicken, shrimp, veggies, pernil, carne asada and tilapia to be added to the taco. While the tilapia lacked flavor, the shrimp offering was great. The entrees are served with arroz con gandules and black beans, both tasty sides.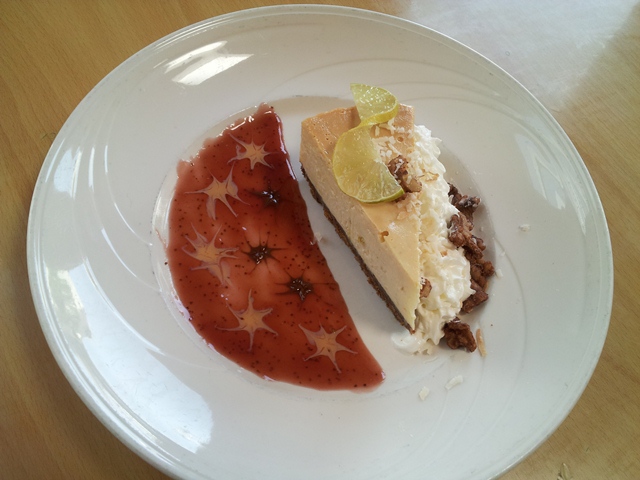 For dessert, the key lime is not to be missed. It is sweet and tart, crowned with homemade strawberry sauce, whipped cream, candied nuts and toasted coconut. Yup, a modern Mexican no-frills eatery in Downtown Phoenix might just offer one of the best key lime offerings in the Valley. Another reason to get to Fuego CityScape soon, especially as the weather starts to cool? All day, every day, Fuego offers $6 specials on the patio. Think nachos, meatloaf sliders, veggie tacos and more.  www.fuegobistro.com.