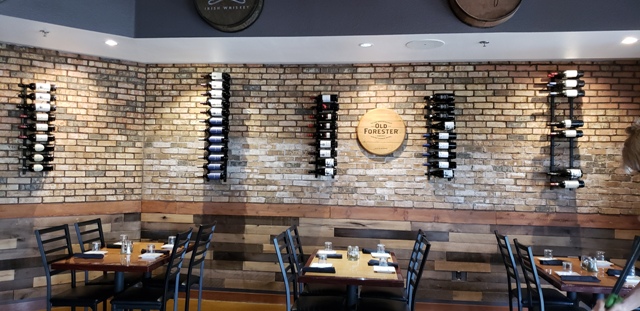 After a successful four years in far north Scottsdale, Doug Smith wanted to allow a little more space and flexibility for his loyal customers. In fact, a meal at his former, teeny space was available by reservation only. So Smith, a veteran and owner French's Meat, opened Bourbon Cellar in a fresh and much larger location at Scottsdale Rd. and Pinnacle Peak Pkwy. just a few weeks ago. Now, Smith has plenty of space to dish out his incredible menu of never-frozen seafood (that he picks up from the airport himself), hand-prepared cuts of meat and 300 bourbon labels.
The Bourbon Cellar is open for lunch and dinner daily, starting at 11 a.m. The high-end steakhouse is warm, welcoming and homey, with dark furnishings, brick walls, local artwork and a large bar for slinging back barrel-aged cocktails (the orange-y Cellar Smash is a favorite!)
Though lunchtime offers a casual atmosphere with great eats, the dinner scene at The Bourbon Cellar is upscale and invites diners to linger a while. And with the decadent eats that the restaurant dishes up, you'll definitely want to make a night out of a visit to the Scottsdale steakhouse where you'll instantly feel like family.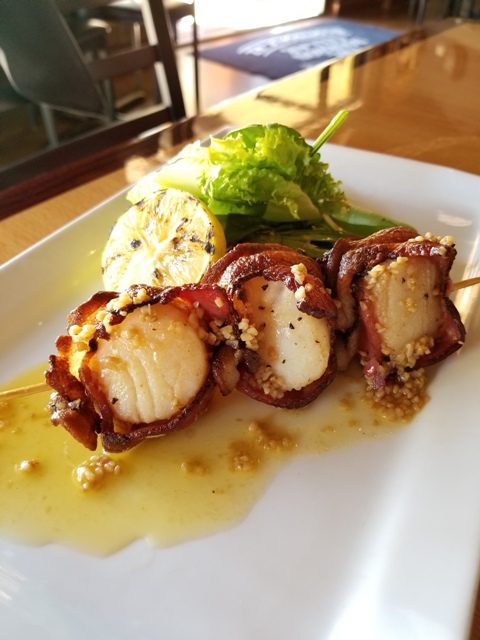 Start with the house salad that puts other "house salads" to shame with season-friendly fresh mixed greens, tomato, jicama, cranberries and bourbon pecans. Did we mention that bourbon is incorporated in each dish at The Bourbon Cellar? Get it topped with juicy slices of chicken to make it a meal. For a more decadent start to your feast, order up the trio of pan-seared, bacon-wrapped crusted scallops, served with a delish garlic butter-bourbon glaze. The crispy bacon plus the creamy scallops is a winning combo. Warning: If you're dining as a duo, there might be some tension over who gets that third scallop.
The burger lineup is something to behold at Bourbon Cellar, with options like venison, elk and bison. The filet burger features a half pound of USDA Prime beef–juicy, tender, rich. Diners are invited to choose their own toppings from a long list of options, but we're pretty sure none can steal the show from the wasabi deviled egg that tops each burger. The eggs have become so popular, thanks to their fresh wasabi and ginger, that they are now an appetizer, too.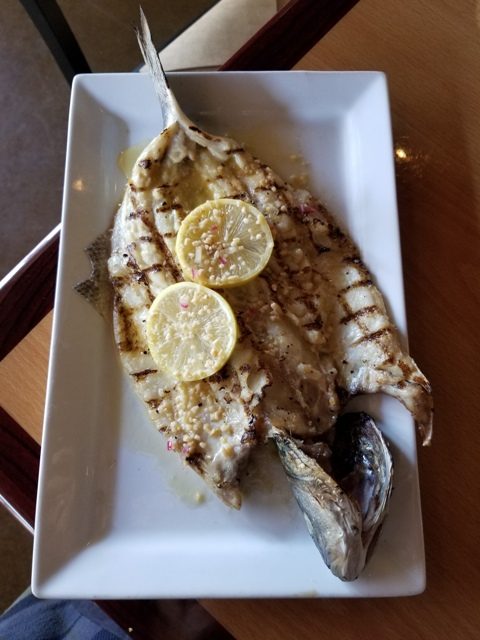 As mentioned earlier, seafood is serious business at Bourbon Cellar and the sea bass is case in point. The slightly sweet, flaky fish is served whole, and eat bite melts in your mouth like butter. On the side, creamed corn and creamed spinach–we couldn't get enough of these divine side dishes–make for tasty partners to the velvety fish. After just a few tastes, we can't wait to come back to try the extensive wild game and steak options at Bourbon Cellar.
Smith offers a full buffet on the third Wednesday of each month from 5 to 6:30 p.m. for $15. One hundred percent of the proceeds from these dinners benefit local American Legion posts in Anthem, Phoenix and Cave Creek.