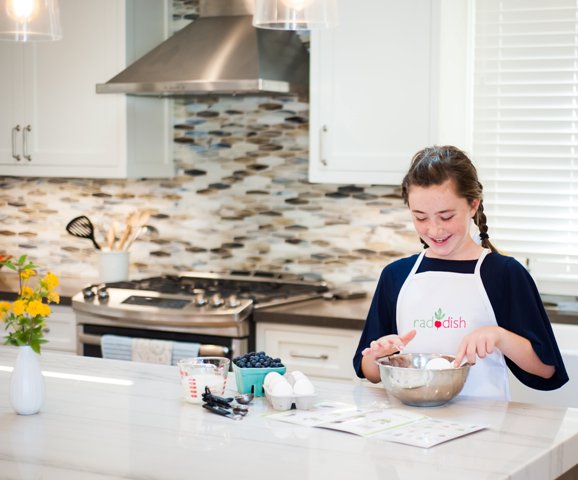 Now that the school year is underway, parents are seeking opportunities to spend quality time with their kiddos between homework, soccer practice and busy work days. Raddish, a monthly subscription cooking club/kit for kids, inspires kids to help out in the kitchen (or even take control of dinnertime completely) and have a great time while there.
Each thematic Raddish kit is designed by teachers–who believe the kitchen is the tastiest place to learn–and incorporates math, science, nutrition, geography, culture and history. Each kit, which conveniently arrives at your front door, focuses on a theme and includes materials within that theme: three illustrated laminated recipe guides, a culinary tool, a culinary skills card, an activity, table talk dinner conversation cards, a patch to celebrate their newly learned skills and more.
For instance, the most recent kit, Summer Luau, contained festive recipe cards (for dishes like kid-friendly coconut shrimp and pineapple upside-down cupcakes). The recipes are super-easy to follow and contain ingredients that kids are actually excited to eat–and share with Mom and Dad. And the kit contained a green pair of tongs that the kids were then able to use when cooking up the recipe.
In addition to promoting time in the kitchen, Raddish also finds ways to get the family seated at the dinner table together, thanks to table talk conversation cards and an after-dinner activity the whole family can enjoy together (in the Summer Luau kit, the activity was lei-making).
Parent can go the extra mile, too, with Raddish. Online lesson plans are available that integrate science, history, culture, tradition, math, geography, language arts and more. In the case of the Summer Luau kit, the online lessons explore the history and tradition of hula dancing.
Best of all, Raddish is super-afforadable. Prices for kits start at $20, depending on the subscription plan. Past kit themes have included Irish Eats, Greek Feasts, Spring Brunch and Hometown Diner, to name a few.