Taste would like to welcome a new contributor: ForXx. Every other Friday, ForXx will give readers the lowdown on grocery store finds that you should put in your shopping cart. Here's Grocery Greats.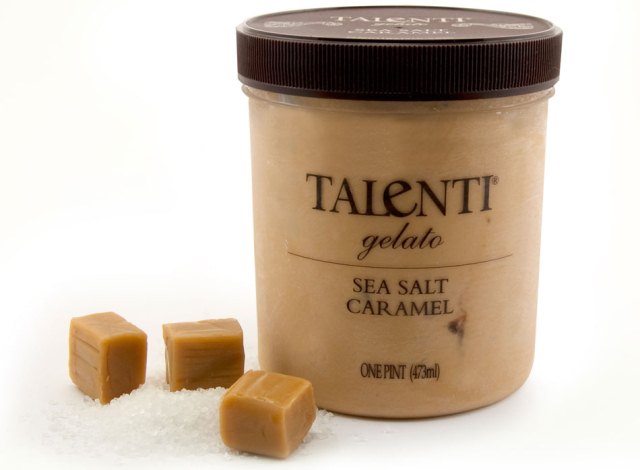 Hi, ForXx here. Welcome to the Critic's Plate. In this Grocery Great segment, I searched grocery stores for the best sea salt caramel desserts.
The yummy Sea Salt Caramel gelato by Talenti is thick and creamy. Talenti is made in Argentina where they still make traditional Italian gelato. Talenti acquires ingredients from all over the world starting with their Argentine dulce de leche and French sea salt complemented by bite-size chocolate-covered sea salt truffles. Other ingredients include hormone-free milk and chocolates from Belgium. The transparent jar with a screw top lid provides less freezer burn. At AJ's for $4.95.
The Haagen-Dazs Salted Caramel Truffle ice cream pint is adorned with a photo of chunks of melting caramel sprinkled with salt. In true Haagen-Dazs fashion, you get a perfect combination of sweet and salty. Not a surprise for Haagen-Dazs, they definitely got it right. The lift-off lid reveals a thin plastic protective barrier. At your favorite grocery store for about $4.
Jeni's Salty Caramel ice cream is packaged in a transparent and orange pint that vaguely reveals what you get inside. Jeni's melts in your mouth quickly with a smokey salt flavor remiss of any hint of caramel. The ingredients of Snowville cream, light brown sugar and Madagascar bourbon pure vanilla extract somehow gets lost in translation. Also at Aj's for a whopping $12.00.
My Grocery Great choice is the Talenti Sea Salt Caramel Gelato. Amazing.