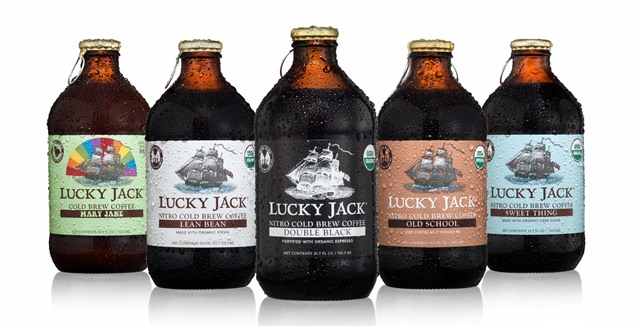 Plain old drip coffee just doesn't seem to cut it anymore. People want their morning cup of joe to pack more punch nowadays, with many people turning to their attention to cold brew. (Plus it's hard to sip on a piping-hot cup when it's 111 degrees outside!) And now that Organic Lucky Jack Nitro Cold Brew is available in Whole Foods and Sprouts Market in Scottsdale (it actually happens to be the only organic cold brew on shelves), you don't even have to pop into your favorite coffee spot every morning–you can stock up for the week with a selection of six varieties.
Double Black, made with just Arabica coffee and purified water, is for those who like their coffee to really get them moving in the morning–thanks to extra espresso. This option isn't for the faint of heart; it is strong, but that's how it's intended. For something a little more mellow, sample Old School, which is lightly effervescent but not as powerful as the Double Black. Sweet Thing is–you guessed it–sweetened up with a bit with organic cane sugar. If you're counting calories, but still like a little sugar in your coffee, Lean Bean is perked up with organic Stevia. Mary Jane is perfect for those making the switch from traditional coffee as it features organic cane sugar for sweetness and hemp milk to add some creaminess. If you'd like to add your own milk and sugar options, you can try out Slow Brew, an organic coffee concentrate.
Apart from its incredible flavor and welcome variety, Lucky Jack impresses with its handsome bottling. The amber glass bottles protect the integrity of the product and are completely recyclable. Recommendation: We preferred the cold brew once it was poured into a separate glass, not straight from the bottle. Available for a suggested price of $3.99 per bottle.