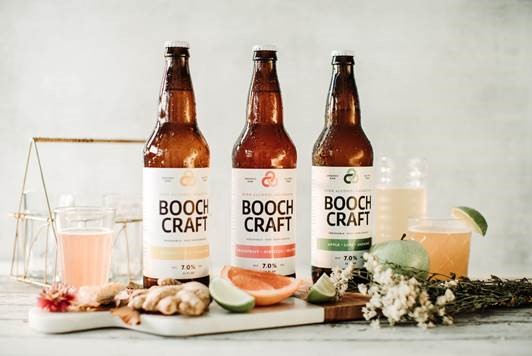 Kombucha has definitely taken the drink world by storm, with many brands available at your favorite grocery store and plenty of options on tap at local restaurants. And now kombucha is lending itself to better-for-you alcohol (and offer a perfect Mother's Day sip!) Boochcraft is a market leader in that category with their high-alcohol kombucha, which was born out of a garage in San Diego in 2016. Phoenix holds the distinction of being the first city outside of California to sell the product.
Boochcraft uses only certified organic ingredients; plus, it is gluten free, raw, vegan and contains living probiotics. Plus, it tastes delicious and offers a variety of spring-ready flavors (hello grapefruit and lime!). Flavors now available locally include: Apple Lime Jasmine is crisp and cider-esque, with lime juice and elegant floral aromatics of jasmine green tea; Grapefruit Hibiscus Heather is sweet and tart, thanks to its inclusion of cranberry (in a pretty pink hue); and Ginger Lime Rosehips is a spicy and refreshing fresh-pressed ginger juice with lime and rosehips.
Boochcraft is now available in four-pack with 12-oz. cans; it is also available in one-sixth and one-half barrel kegs and a sleek 22-oz. glass bottle that is now for sale in 10 different locations around the Valley including the Whining Pig downtown, Bottle Shop 48, Jobot Coffee & Bar, First Draft Book Bar, Sun Devil Liquors and more.